Maria is the Director of Public Affairs at Plus Communications
What is the most exciting or rewarding project or experience you've had in your career?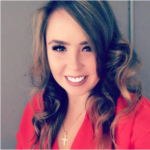 I was raised in Asheville, North Carolina and then I moved to New York City for undergrad, and I just finished my masters at NYU for public relations and corporate communications. In New York City, I've had the pleasure and opportunity to work for the Doctor Oz show, NBC Universal, Fox News channel where I was Neil Cavuto's main booking producer where I was booking all segments for his shows, and he had a show on FBN, a weekend show, and a weekday show. Here, I had the pleasure and opportunity to work for a member of Congress on Capitol Hill and most recently I am working here in Washington, D.C. at Plus Communications as the Director of Public affairs.
Tell us about your background and how it led you to where you are today.
One of the most successful and exciting moments of my career was working for the 2020 election. That was an exciting time and I was able to learn and grow as a young professional in this field.Where do you see yourself in your career trajectory in five or ten years, or more?
In the next five to ten years one of my biggest goals is to be a media mogul—meaning anyone in our industry can call me up for work and understand that I will stand by the work that I do and will understand that I'm trusted and well-respected in our industry.
What do you think is your best self-trait? How does it set you apart?
The best personality trait that I have is my personality—being able to read a room and being able to speak and talk to anyone! Everyone has a story, and it's important to understand and have a conversation. It all starts there.
If you could do a Ted Talk on any subject, what would it be?
I think the Ted Talk that we need is why we don't deserve our pets because my dog Zeus—I got him during the Covid pandemic—is my best friend. We need a Ted Talk about the special bond of an owner and their pet because it is beautiful and sweet and coming home from a long, productive day it's nice to come cuddle with your pets!
Hear directly from Maria in her video response here and learn more about Maria at https://www.mariakp.com/.
Interested in being featured in a member spotlight? Reach out to membership@wwpr.org to volunteer and learn more about getting involved.