She's a PR strategist and writer with nearly five years' experience in the industry.
Plus, she recently earned her Master's in public relations
from Georgetown University.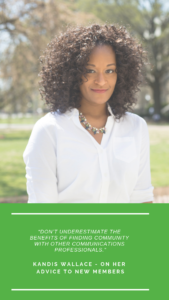 Her Experience
Kandis' current position is with Adventist HealthCare, where she executes communications strategies for their medical centers and offices in Montgomery and Prince George's Counties. The variety of her role is what thrills her the most: one day she could be writing blog posts to help people understand medical conditions, and the next she could be organizing an event to raise breast cancer awareness. The variety has helped her learn more about her strengths and how to manage deadlines.
In addition to recently finishing her advanced degree, she's also started to engage in some PR consulting for socially responsible organizations. Speaking of socially responsible, her first position was working in media relations at The Humane Society of the United States—just think of all the pets!
Her Involvement in WWPR
WWPR is the first professional organization Kandis has joined since starting her career (woo!). She first learned about WWPR in graduate school, which inspired her to join after hearing it was a positive experience for many of her peers. Through WWPR, she hopes to connect with other passionate women and honing her consulting skills by networking with other entrepreneurs.
She's considering joining the Content and Pro Bono committees, which most align with her career interests, and looks forward to attending the mixers.
Her Out-of-Office Hours
Outside the office, Kandis' favorite activities allow her to be creative, eat great food and unwind. She especially enjoys paint bars and food and drink festivals with her friends and fiancé, as well as nature hikes and reading. She also owns a two-year-old spaniel mix!