Stephanie Wight currently works at CURA Strategies as Vice President, Media Relations and is a past WWPR Board Member who served on the Emerging Leaders Awards Committee
Tell me about your background and what drew you to your new position.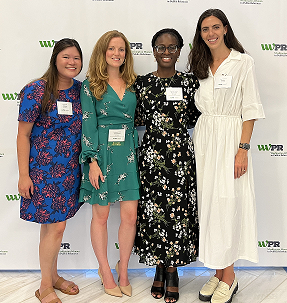 I've worked in healthcare communications for the past 11 years—first at The Reis Group, a boutique agency focused on healthcare PR, and then at JPA Health, a mid-sized agency focused on PR, marketing, and advocacy. I was very fortunate to learn and grow from seasoned media relations professionals early in my career, and I quickly developed a passion for pitching and elevating my clients in the news. Throughout my career, I've spoken to countless patients, caregivers, healthcare providers and nonprofit leaders who are so passionate about helping others and improving people's lives. Aside from these conversations sometimes bringing me to tears, it's been extremely rewarding to tell their stories and play a small part in helping them achieve their mission, whether it's improving access to lifesaving treatments or providing hope to someone newly diagnosed with a debilitating disease. That brings me to CURA Strategies, where I'm specializing in earned media in my first role as a Vice President. In addition to the opportunity to specialize in an area of communications that I'm particularly passionate about, I was also drawn to CURA's supportive and authentic culture. This stood out to me during the interview process and has been very apparent in my first couple of weeks on the job. CURA, which means care, concern, healing, and attention to others in Latin, is really at the heart of the organization and provides a great environment for people to thrive.
What are you most excited about as you join CURA Strategies?
I'm excited to dive into the important issues CURA supports – such as expanding access to post-transplant care and improving hospital-associated infection rates – and to be strategic and creative to elevate these issues among key audiences and help drive change. I'm also excited to join a team that was just awarded PRovoke Media's Boutique Agency of the Year – a testament to the strong team CURA has built over the past seven years and the transformative work they've accomplished to date. 
What is the most rewarding project you've done recently or in your overall career?
When you work in healthcare, it's extremely difficult to choose! Most recently, I worked with the American Gastroenterological Association (AGA) to build a resource for people living with inflammatory bowel disease (IBD) that goes beyond the medical aspects of the disease and addresses some of the social and emotional hurdles of living with a chronic illness. It was exciting to take this from concept to reality, starting with patient and provider research to determine the gaps in care, and then bringing patient experiences to life to help others who are struggling in their journeys. Seeing the IBD community's response to the new resource—My IBD Life— was extremely rewarding, and securing a feature piece in WebMD was the icing on the cake.
As a former Board Member and member of WWPR, what have you gained from your experience?
Being on the board of WWPR expanded my horizons in many ways— it deepened my connections in the PR field, expanded my leadership skills, and challenged me to step outside of my comfort zone. As a member, I appreciate the value that WWPR continues to bring to my career, and the supportive environment it's created for networking, friendships and learning. The opportunity with CURA actually came about through WWPR—connecting with another long-term member at the annual holiday party!
What PR trends do you see happening in 2023 and what kind of influence has it had or will have on professionals in the industry?
Generative AI is the big trend for 2023 that's making a serious splash in PR and likely every industry. While many are weary about AI, my take is that PR professionals must embrace emerging tools that can streamline our work and free us up to be more strategic and creative. That being said, I think training and guardrails are necessary to avoid the pitfalls, such as inaccuracy, plagiarism, and unoriginal content, and to ensure we are optimizing the tool to best influence our work.
Is there any particular book, podcast or influencer you would recommend? How has it impacted your life?
I really love TheEverygirl.com – it's a resource that I follow on Instagram offering great articles to help women lead well-rounded lives. They write about a variety of topics including career and finance, wellness, and relationships. Also, every month they release backgrounds for your phone and computer with beautifully designed calendars…I love selecting a new one each month and it's an easy way to reference dates when thinking about project timelines!