By Lisa Matthews, Vice President, Hager Sharp
As I moderated this year's annual media roundtable for Washington Women in Public Relations (WWPR), I heard a number of familiar themes – keep pitches short, keep pitches relevant, know who you're pitching. Some things will likely never change as public relations professionals look for better ways to engage traditional media.
What's newer is the relative importance of press releases, social media engagement and paid versus earned.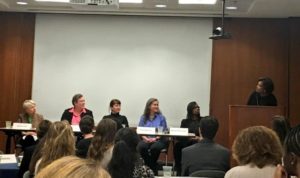 While press releases are useful for some, C-SPAN's Washington Journal Executive Producer Michele Remillard isn't reading yours. Remillard says she doesn't have time to read press releases. Holding up her phone she encouraged the audience to send her something short and to the point that doesn't require her to scroll. Overall, all of the panelists preferred a personal pitch email over the usual press release. And while we're on the topic of how best to contact the media, if you think it's okay to pitch a reporter on Twitter – think again. Washington Post Health, Science & Environment Editor Laura Helmuth says you are taking away what's fun about Twitter when you do that. For her, Twitter is more about actual social engagement rather than a platform for pitching. On the other hand, NBC 4 Planning Editor Melinda Woolbright is always trolling Twitter for local story ideas.
Another issue that members of the audience wanted to get the panelists' perspective on is paid and earned media. How do PR professionals compete for the attention of editors with the usual pitch when money is involved? Is earned even worth the effort? Daily Beast Washington correspondent Eleanor Clift explained that traditional media companies still have to make money and the model for making that money has changed significantly with the advent of the digital age. Clift also noted that branded and sponsored content are just another way of advertising.
The whole discussion around paid and earned really resonated with me.  When I was on the desk at AP – I always knew a good pitch when I saw one and reporters do too. I was also always suspect of a pitch that sounded more like a commercial than actual news. Now that I'm working in PR, I see just how much work actually goes into preparing a good pitch – the data review, the audience analysis, multiple edits from clients – before we get anywhere close to pressing send. It's much like the many layers of editing that goes into stories by reporters before they are published on any platform. But the reality is we are now officially in a world of infotainment. It takes so much more than straight news to keep the attention of people distracted by the latest cat video on Facebook.
So for me, it's not about choosing between paid and earned – both tactics are an integral part of any successful sustained media effort. It's more about how to weave the two into a strategy that results in good information for news consumers and a winning campaign for our clients. I think working more closely with our journalist cousins and developing stronger stories with our clients will lead us all down the road of success as we figure out what's next in the ever changing multimedia world.