Washington Women in Public Relations (WWPR) is pleased to announce the finalists for the 2021 Emerging Leaders Awards (ELAs). 
We are excited to celebrate the 11th anniversary of the ELAs, where we are honoring emerging leaders in five categories – small/boutique Agencies, mid to large sized agencies, government, non profit and in-house. 
Ahead of this signature event, WWPR connected with the finalists to hear about their journeys and career advice and helpful insights on how they got to where they are today. 
Learn more about our 2021 ELA finalists below and register to attend the virtual awards ceremony on Thursday, May 20 to help us celebrate all of their successes!
Small/Boutique Agency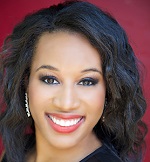 Stefani Alexander, Vice President, Curley Company
Best Advice: Set Boundaries.
As Vice President at Curley Company, Stefani helps clients implement impactful strategic communications plans and find effective ways to target and engage the people who matter most to the success of their business. She is a leader in her community and a mentor to the next generation of emerging public relations leaders. Stefani provides pro bono public relations counsel and support to Dress for Success Washington, D.C. and serves as a mentor for the Public Leadership Education Network and is a member of ColorComm.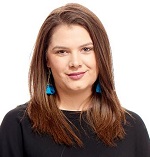 Sinead Casey, Vice President, CRAFT Media, Digital

Best Advice: A crisis doesn't change people, it amplifies who they are. It doesn't necessarily bring out the worst in people but the essence of who they are.
As a Vice President at CRAFT | Media / Digital Sinead plays a key role in the agency's leadership, managing account teams, creative strategy, and new business initiatives. She has built CRAFT's event and experiential marketing practice from the ground up and leads CRAFT's award-winning Political Action Committee (PAC) practice. In 2019, Sinead was recognized by PR News as Account Director of the Year and in 2020 as a "30 Under 30 Rising Star."
A natural collaborator and a battle-tested problem solver, Sinead has the ability to connect the dots between mediums, disciplines, and people. Sinead is well versed in advocacy-driven communications, digital media, brand building and advancing business initiatives. Sinead leads accounts across CRAFT's media, digital and public affairs channels, developing and executing strategy for clients including national trade associations, international corporations, Fortune 500 companies, and political organizations.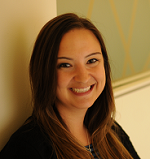 Brittany Vanderpool, MPS, PMED, Account Supervisor, Vanguard Communications

Best advice: Listen to learn; listen to understand.
As an Account Supervisor at Vanguard Communications, Brittany manages an array of nonprofit and government accounts. She helps clients move the needle on important social issues, from voting access, to sustainably grown food, to stroke triage and treatment. She also leads strategy and management of the firm's Digital team. Her true passion is in designing and implementing client events, training, and virtual offerings . She also provides event solutions for clients, including annual conferences for more than 5,000 attendees, red-carpet awards ceremonies and press events. An avid sports fan, Brittany volunteers to support Washington area teams and clubs. 
Mid- to Large-Sized Agency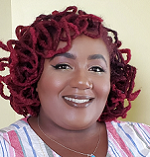 Akeia Blue, Senior Account Executive, JPA Health
Best Advice: Be intentional about the relationships you form and the projects you take – both professionally and personally. 
As a public health communications practitioner, Akeia finds ways to share complex health information in easy to digest, consumer-friendly packages. She works  with multiple non-profit organizations providing culturally competent health education on topics such as sexual/reproductive health, mental health, general health, and wellness and weight bias. Prior to joining JPA, Akeia supported health education around adult vaccines and patient advocacy campaigns for lung cancer patients. Outside of work, Akeia serves as the Ambassador Lead for Black Ladies in Public Health. She also volunteers with Food 4 Thought Group and her sorority Zeta Phi Beta Sorority, Inc. – Delta Zeta Zeta chapter, to help them create social content, website content and marketing materials. In 2016, she started Be Health Literate where she blogs about various health topics from a personal perspective and works with organizations to develop materials for their programs.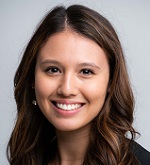 Rosemary Girard, Senior Account Supervisor, Corporate Affairs, Edelman
Best Advice: Do not compare your own life reel with someone else's highlight reel. Focus on your own growth and journey and definition of success, and the rest will follow.
As a Senior Account Supervisor at Edelman in Washington, D.C., Rosemary Girard strategizes and implements executive communication programs for Fortune 500 CEOs and other business leaders. Prior to her role at Edelman, Rosemary worked in corporate communications at NPR. There, she focused on corporate, executive, internal, and crisis communications to champion NPR's journalism, programming, products, and people. She began her career with internships including two years supporting public relations and organizational communication at the Library of Congress, as well as working with her university's president on speechwriting and communications.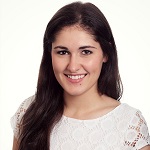 Kate Urbach, Managing Account Supervisor, Ketchum
Best Advice: Setting boundaries.
Kate Urbach is a Managing Account Supervisor within Ketchum's Health, Innovation and Wellness practice. She is a results-driven leader with dynamic experience in a variety of industries including healthcare and non-profits. She helps clients implement impactful strategic communications plans and find effective ways to target and engage the people who matter most to the success of their business. Earlier this year, working with Merck KGaA, Darmstadt, Germany, Kate developed and led a successful global launch for the company's first-ever Carer Well-Being Index which explored the impacts of COVID-19 on the health and well-being of family caregivers. Kate and her team helped to organize a global rollout in 12 countries across Europe, Asia-Pacific and the Americas, which has been covered by over 100 major media outlets.
Government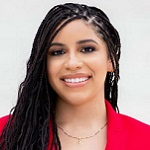 Luz Martinez, Communications Director, Office of Councilmember Brianne Nadeau, Council of the District of Columbia
Best Advice:  Take time to process things as a person and as a human being before deciding how to respond to them. 
Luz Martinez serves as Communications Director for the District of Columbia's Ward 1 Councilmember Brianne Nadeau where she manages and implements communications, press, and digital media strategies to keep residents apprised and engaged in local government. Luz launched her career in Washington, D.C. as a Special Projects Fellow at Latino Victory, a political action committee established to help Latino candidates get elected. She previously served as an Analyst for D.C. At-Large Councilmember Robert White's office where she oversaw the introduction of the Sexual Harassment Data Collection and Reporting Act to increase transparency and accountability around sexual harrrasment claims within District government. Luz currently sits on the Board of Directors for the D.C. Latino Caucus, where she works to advance the caucus' mission of increasing civic engagement within the local Latino community. In 2020, Luz was selected for the inaugural class of the EMILY's List Ignite Change Fellowship, a leadership training program that chose only 30 women from across the country who had demonstrated the ability to turn activism into political power for underrepresented communities. In June, she will complete the New Leaders Council Fellowship, a highly competitive national program that selects emerging leaders and equips them with the tools to move their local community forward.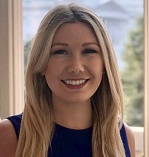 Rachel Stephens, Press Secretary, Committee on Transportation and Infrastructure, U.S. House of Representatives
Best Advice: Don't give up on virtual networking to land something that would be a new challenge and a step up. 
As Press Secretary for the House Committee on Transportation and Infrastructure, Rachel amplifies the committee members' work  on behalf of the country and their local districts to improve the nation's growing infrastructure network. She also serves as President of the Republican Communications Association where she strives to bring young communicators together for networking and mentorship opportunities.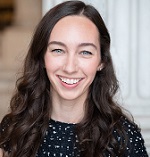 Paige Waltz, Digital Director, Office of Senator Mitt Romney, U.S. Senate
Best career advice she received this past year: Stay focused on the big picture and don't let the day to day fire drills that arise derail you from achieving your big goal. 
As Digital Director for Senator Mitt Romney (R-Utah), Paige manages the Senator's digital communications; collaborates on the communications strategy surrounding policy initiatives; and serves as photographer and videographer. Paige served as Communications Director for the 59th Inaugural Ceremonies on special assignment with the Joint Congressional Committee on Inaugural Ceremonies. Paige created and implemented the communications strategy and led a team that managed all press activities for the Ceremonies at the U.S. Capitol on January 20, 2021, in the midst of the COVID-19 pandemic and in the immediate aftermath of the Capitol insurrection.Because the pandemic severely limited in-person attendance, Paige managed the production of a virtual Inaugural viewing experience to engage and entertain a mostly remote audience. This virtual production had a total viewership of more than 75 million—more than double the viewership of the networks' broadcasts—and featured partnerships with former presidents and legislative partners.
Non-Profit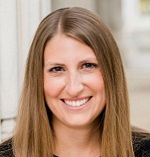 Jennifer Arnold, Associate Vice President, Marketing & Communications, U.S. Soccer Foundation
Best Advice: Never forget the basics.
An experienced marketing and communications team leader, Jennifer has worked across health care, sports and non-profit sectors. As Associate Vice President of Marketing & Communications at the U.S. Soccer Foundation, Jennifer oversees the organization's brand, communications and marketing strategies, digital strategy, media relations, thought leadership, graphic design, and video production. During 2020, Jennifer led the Foundation's rapid COVID-19 response plan and was a key contributor to the creation and distribution of new direct-to-consumer weekly series and adapted curricula. She was also pivotal to the launch of a partnership with Black Players for Change and Black Women's Player Collective to provide access to safe places to play in Black communities. Previously, Jennifer led communications for Fight Crime: Invest in Kids, a law enforcement membership group that advocates for policies and strategies proven to cut crime and prepare young Americans for success. Jennifer also worked at GYMR Public Relations supporting a variety of nonprofit and foundation clients on issues including health care quality improvement, Alzheimer's disease and healthful school foods.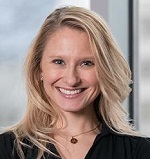 Maggie McClain, Senior Director of Communications, Food Allergy Research & Education
Best Advice: Show empathy to your team members.
As FARE's Senior Director of Communications, Maggie oversees communications strategy, planning and tactics aimed at raising awareness and boosting visibility for the organization and the greater food allergy community. She brings more than 12 years of communications, public affairs and market research experience to her role. Prior to joining FARE, she served as a VP of Communications at Banner Public Affairs on Capitol Hill where she led communications and media strategy across clients spanning a variety of industries including cybersecurity and technology, food and beverage, and hospitality. In addition to this and several years as a consultant at H+K Strategies, Maggie also served as Director of Media Relations at The Grocery Manufacturers Association (GMA). During her time at GMA, she developed and executed communications plans relating to health and wellness, sustainability and transparency issues including ingredient labeling.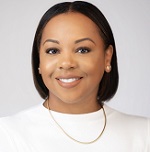 Shannon McClendon, Public Relations Manager, American Nurses Association
Best Advice: Extend grace to everyone. 
As Public Relations Manager for the American Nurses Association, Shannon provides media relations and rapid response communications for the premier organization representing the nation's 4.2 million registered nurses. She is passionate about developing content and executing earned media strategies related to health policy, social justice, health equity, and health and wellness to drive meaningful change. In 2020, she directed ANA's media response efforts for the COVID-19 pandemic. Nearly 90% of the earned media coverage focused on ANA's advocacy to ensure nurses have sufficient access to critical personal protective equipment. As COVID-19 vaccines became available, the ANA president was featured in Black Enterprise and Essence Magazine to encourage Black Americans to get vaccinated. Before joining ANA in 2017, Shannon managed communications programs for Sam's Club, Aetna Foundation, Massachusetts General Hospital, Medtronic, Inova Health System, Cerner Corporation and Children's National Health System. 
In-House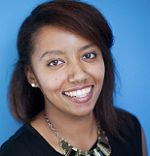 Merone Hailemeskel, Digital & Communications Associate, The Office of Barack and Michelle Obama
Best Advice: It's ok to say no. Merone has been more intentional about what she can or can't take on. 
As the Digital & Communications Associate for President Obama and Mrs. Obama Maggie leads the digital strategy for their combined 300M+ followers and supports the communications team to further the goals of the Obamas. Prior to this role, she served as the Director of Communications for Mrs. Obama's Reach Higher Initiative and Better Make Room Campaign where she led the communication, digital, and outreach strategy used to inspire students to pursue and complete a postsecondary education. She also served as a Policy Advisor at Reach Higher and led their undermatching research efforts and awarded more than $250K in grants to support public school teachers and school counselors.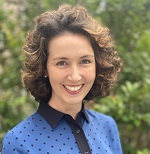 Emily Newman, Senior Speechwriter, National Association of REALTORS®
Best Advice: In everything you do whether personally or professionally, be authentic.
As Senior Speechwriter,  Emily manages messaging and communications strategy for multiple executives. Prior to her current role, she served on the Global Public Affairs team at FedEx and spent five years as a Communications Director on Capitol Hill. During her time in Congress, Emily guided two freshmen members in developing their communications plans and ran a one-woman press shop for a senior member of the Ways and Means Committee. She also has experience in the non-profit sector in both professional and volunteer roles, including five years as a Girls on the Run coach. Emily is a recipient of the FedEx Rising Star and Shining Star awards, which honor team members who achieve exceptional results in marketing and communications.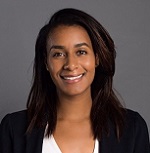 Jessica Pumphrey, Principal Communications Associate, Capital One
Best Advice: Open as many doors as possible and then decide which ones you want to walk through. Do as much as you can to open as many doors, get creative and never be afraid to try something new and really decide which opportunity is best for you at the time.
Jessica Pumphrey is a public relations expert with more than a decade's worth of experience developing effective communications strategies that raise awareness on important issues and  activate audiences for impact. Her work has centered around diversifying the media landscape with fact-based research, national and international campaign development and multicultural storytelling. In her current role at Capital One, Jessica leverages her PR and storytelling prowess to shine a light on how the financial institution is changing banking for good and impacting diverse communities across the nation.