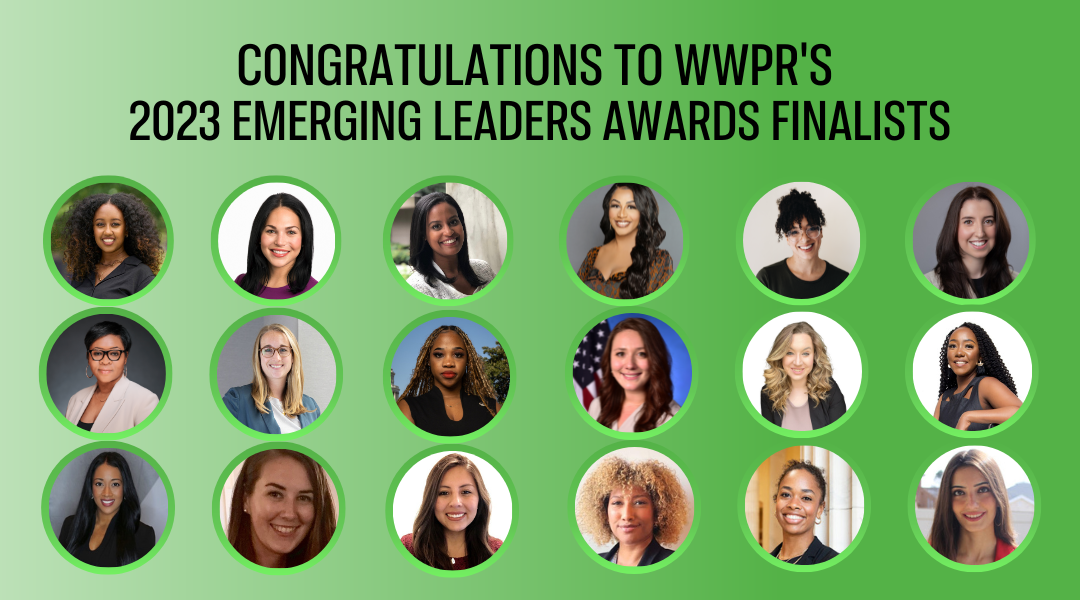 Bold. Fearless. Empowered.
celebrating young women who challenge the status quo and break down barriers in the rapidly changing public relations and communications landscape. 
Every year, the WWPR Emerging Leaders Awards recognize outstanding young women in public relations who are making a significant impact early in their careers. The nomination process is now closed.  This year's event honoring our finalists will be held on June 15, 2023 at 6 pm EDT. 
We are excited to announce our keynote this year for our Emerging Leaders Awards Ceremony. Named as one of 2022's Top Women in Communications, Devi Thomas is a Nonprofit Go-to-Market leader at Microsoft Philanthropies. She is trailblazing communicator, philanthropy leader, and visionary who has been on the forefront of innovation and social impact. Devi will share her career trajectory and how her communications skills have propelled her to success across sectors and across functions. The awards ceremony details are below, be sure to register today.
Where: LiUNA's Rooftop 
905 Black Lives Matter Plz NW
Washington, DC 20006
Congratulations to the 2023 Emerging Leaders Finalists  
The 18 finalists are grouped into the following categories: Small/Boutique Agency, Mid- to Large-Sized Agency, Government, Non-Profit, Corporate and Trade Association. One winner from each category will be revealed on Thursday, June 15, at the annual awards ceremony. Get your tickets now!
This year's finalists represent the top three candidates in each of the six categories, as determined by a distinguished panel of judges. The 2023 ELA finalists are:


Small/Boutique Agency:

 Mid- to Large-Sized Agency:
 Government:
 Non-Profit:
Corporate:
Trade Association:
Read more about the finalists in the press release.  

For more information, contact: Colleen Gallagher and Charmaine Riley, WWPR Emerging Leaders Awards Co-Chairs ela@wwpr.org
More About our Emerging Leaders Awards
The ELAs recognize rising stars in the communications industry, and showcase the field's most talented young women (ages 25-35) for their professional accomplishments. These honorees implement innovative communications strategies that go above and beyond – achieving impressive and extraordinary results.
The ELAs were created in 2010 as a special accolade for young women active within the communications field that were making a significant impact on the industry but were not being recognized due to age or years of experience. The Emerging Leaders Awards ceremony is an opportunity to hear from these up-and-coming leaders that will inspire and educate, and celebrate the value of public relations. The honorees will be promoted in WWPR materials and on the website. Honorees will be named at the awards ceremony based on their contributions as well as their potential to contribute to the industry for many years to come, making them truly emerging leaders.
The honorees will span from different industries and will be honored in the following categories: boutique agency ELA, mid-sized agency ELA, lage/global agency ELA, nonprofit ELA honoree, corporate ELA honoree, association ELA honoree, and government ELA honoree.
Eligibility requirements and nomination instructions are detailed below. Please direct questions about nominations to Colleen Gallagher and Charmaine Riley, WWPR board members and Emerging Leaders Awards co-chairs, at ela@wwpr.org.
Nominate a friend, a mentee, a mentor or a colleague today by April 21, 2023.
Eligibility Requirements
Nominee must be no younger than age 25 and no older than age 35 on June 15, 2023 and reside in the Washington, D.C. metropolitan area.
Nominees must work in one of the following disciplines: media relations, crisis communications, event planning, social media, digital media, website communications, strategic communications, community relations, internal communications, speech writing, public affairs, public relations, marketing communications, government communications, investor relations communications, consumer/lifestyle communications, branding, and writing/editing.
Nominee cannot be a current WWPR board member.
Nominee must have demonstrated leadership, including contributions to the field, post-college.
CATEGORIES
Wondering where you or your nominee fit in? Here's a breakdown of each category:
Boutique Agency: A public relations/communications professional who is employed at an agency with less than 50 full time employees
Mid-size Agency: A public relations/communications professional who is employed at an agency with 50 to 250 full time employees
Large/Global Agency: A public relations/communications professional who is employed at an agency with more than 250 full time employees
Government: A public relations/communications professional who is employed by a local, state, federal, or tribal government entity, or any other public employer, such as a school district or transportation agency
Corporate: A public relations/communications professional who is employed by a corporation or entity with the purpose of operating for a profit, that is not considered a nonprofit or government agency
Trade Association: A public relations/communications professional who is employed by a trade association made up of a collection of companies and/or individuals with common interests or who work in the same industry
Non-Profit: A public relations/communications professional who is employed by a nonprofit organization that qualifies for tax-exempt status by the IRS because its mission and purpose are to further a social cause and provide a public benefit 
Nomination Instructions
The nomination period for the 2023 Emerging Leaders Awards is now open.  Submit your nominations by April 21, 2023.  
You can also register now for the Awards Ceremony and be sure to reserve your spot to network with your colleagues beforehand and honor them for their contribution to the public relations and related fields. Special early-bird pricing is in effect until April 28, 2023.