A recap from our event with Martha Boudroeau, AARP and Jean Medina, Washington Commanders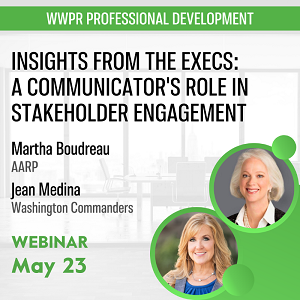 What do communicators of a non-profit and sports Team have in common? As it turns out, a whole lot. Last month, we were joined by Martha Boudreau, Chief Communications & Marketing Officer at AARP, and Jean Medina, Chief Communications Officer at Washington Commanders, for a spirited conversation focused on their career paths and how technology has evolved within the  industry over the last few decades.
Both Boudreau and Medina offered words of wisdom about career growth in an ever changing media landscape – starting with embracing the change. Using social media as an accelerator, these leaders described what it was like to soak in the unknown and focus on leveraging new media channels for amplification and growth. Although you wouldn't think of TikTok as a targeted channel for AARP consumers, Martha shared the importance of proactively engaging a younger audience for awareness and even won a Webby Award for AARP's channel strategy and campaigns.
Similarly, Jean dove into the diverse ways that audiences consume content from the Commanders and how television is no longer the dominant channel when watching a football game. With a growing list of streaming partnerships, her team's focus has shifted to crafting a thoughtful strategy for reaching audiences through digital media and leveraging those partnerships for continued growth.
Here are four key takeaways from the discussion:
Always seek to learn more; embrace new platforms for communications and don't be afraid to position them in your personal and professional life.
Use social media to amplify content, but take the time to listen to your consumers and how they want your brand to show up for them.
A successful brand engages audiences, stakeholders, and consumers across all channels, and leverages its strategic and enterprise partnerships to amplify content.
Integrate your content strategy with your hiring strategy. Intellectual curiosity is gold when it comes to finding talent that is going to think outside the box and find new ways to message your product or service.