Ashley Bernardi is the Founder and Media Relations Director of Nardi Media LLC, a full-service media relations firm that specializes in media placements and training for authors, thought-leaders, entrepreneurs, companies, and more.
Tell me about your background and what drew you to your current position.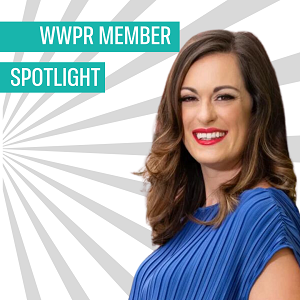 Before joining the PR world, I served as a network television news producer for nearly a decade at CBS News, Bloomberg TV, and The Washington Post. My career as a journalist never came as a surprise – I was producing news stories even as a child. I created a family newscast where I would act as the executive producer and co-host with my little sister. The truth is, I was always curious about PR. When I started having kids, I didn't want to travel as much as I was required to as a TV producer, but I wanted to transition to a career that would still allow me to keep my hands in the newsroom in some way. I love the thrill of covering the ins and outs of a news story and jumping on trending topics, interviewing compelling guests where the audience can learn something. After my second daughter was born, I thought it was the perfect time to try PR, and I ended up loving it! PR still gives me the feeling of being in a newsroom. I'm always creating stories and segment ideas for my clients, and it makes me feel like the journalist I've always been deep down.
Describe what excites you most about your job?
I absolutely love creating compelling pitch and story ideas for my clients to deliver to the media. I also love utilizing the relationships we have in the media in order to book our experts on various outlets from national TV interviews to op-ed placements. But nothing beats the adrenaline rush I feel when I get bookings for my clients, especially on TV, which is my first love! At Nardi Media, we say that we love uplifting the voices of those who are uplifting the world, and that to me is more rewarding than anything else.
What is the most exciting or rewarding project you've done recently or in your overall career?
There are so many! I loved working with Mel Robbins on her book The High 5 Habit: Take Control of Your Life With One Simple Habit. We successfully secured a total of 93 media opportunities in top-tier media outlets including The TODAY Show, Dr. Oz, SiriusXM, and iHeartMedia, and in major TV/Radio media markets including New York and Los Angeles. We also secured a total of 63 podcast placements including On Purpose with Jay Shetty, The School of Greatness, The Minimalists, and more. It was so much fun!
Another campaign that was incredibly rewarding was working with Jamie Metzl, a leading technology and healthcare futurist on the paperback release of his book Hacking Darwin: Genetic Engineering and the Future of Humanity. Our work with Jamie began the month that the entire world changed: the World Health Organization (WHO) declared a global pandemic and states across the country began to implement lockdowns. Our team needed to think unconventionally and pivot our pitches to focus primarily on breaking news around the worldwide crisis. To garner top-tier placements, every pitch needed to tie back to current events. During our onboarding process with Jamie, we learned about his background and expertise and our light bulb moment was recollecting his role as a WHO advisor. Our ability to pivot quickly and get creative allowed us to secure a total of 63 media placements for Jamie during launch that focused around the book and current events, including Yahoo News, HLN, The Hill, People.com, Bloomberg, CNN Newsroom, Newsweek, a 15-interview iHeartRadio tour, and more! We were able to reach over 200 million people solely utilizing earned media.
The questions that are posed in Jamie's book about the future of our species and the challenges to our beliefs, morals, religions, and politics, were unfolding on a global scale. Drawing these parallels between the book and current news headlines, paired with Jamie's qualifications and expertise, allowed us to develop a nimble plan to secure opportunities with broadcast, radio, podcasts, and online outlets. We utilized past speaking engagements at the Vatican and participation in the WHO international advisory committee on the human genome to back up pitching and help us win more speaking opportunities at the Smithsonian and Singularity University.
As a member of WWPR, what have you gained from your experience? I'm new to WWPR, and I am so thankful I joined! My decision to join was motivated by the opportunity to surround myself with like-minded and exceptional women in PR and to create connections and opportunities that allow me to learn and grow as a PR professional and woman in business. I've always been of the mindset that it's not about competition, it's about collaboration. I love any chance to support other women doing amazing things and to feel that support right back!
What PR trends are you and your company adopting this year and what have the results been like? This year, we're investing in securing more podcast placements. We've found that there's so much power in podcasting because podcasts are so niche and 100% opt-in, meaning audiences actually choose to listen! We created a dedicated podcast team to focus on this, and the results have been well worth it. Our clients have gained more visibility, which has resulted in more book sales and more momentum overall. We're definitely going to continue to lean into podcast placements moving forward!
Another trend we're thankfully re-adopting post-pandemic is in-person interviews. We've had almost three years of virtual-only interviews during the pandemic, but now that it's safer to be in person, we've found that all TV shows – both national and local – prefer in-person interviews, and it's happening on a daily basis. I've been in TV studios more in the past two weeks than I have in the past three years! While some stations still accept virtual interviews, I believe that in-person interviews are here to stay. As a former TV producer, I've found that in-person interviews make for a much more engaging conversation that audiences can better relate to.
Is there any particular book, podcast or influencer you would recommend? How has it impacted your life?
My favorite podcast is We Can Do Hard Things By Glennon Doyle. What I've found is that my personal and professional life is so integrated as a PR agency founder, and the topics that Glennon, her wife Abby Wambach, and her sister Amanda Doyle cover empower me to embody and find synergy with these two sides of me. And as someone who has always been passionate about health, wellness, science, and spirituality, I love the wide-ranging topics they discuss, from embodiment to boundaries to relationships, parenting, and so much more. The guests and experts they have are amazing, too!
CONTACT INFORMATION: Ashley Bernardi, Founder and Director, Media Relations, Nardi Media LLC, 202-316-3298, ashley@nardimedia.com, www.nardimedia.com
P.S. Check out my feature in Forbes where I share the biggest mistakes authors make when launching a book!