WWPR Diversity & Inclusion Chair, Jewel McFadden sits down with Human Rights Campaign's Jordyn White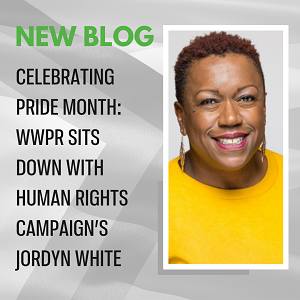 I met Jordyn White earlier this year on an intergenerational panel for the Lesbian Day of Visibility. This was the first time the Mayor's Office of LGBTQ Affairs organized an event to honor the annual observance. Jordyn manages a dynamic portfolio that includes Human Rights Campaign's (HRC) Transgender Justice Initiative, HIV & Health Equity program, and Public Education & Research program. Additionally, she provides strategic guidance across the Foundation on leadership development initiatives, program evaluation, and research related projects. If that is not impressive enough, she is also a doting mother to two beautiful girls.
Q:What is your current role and what do you enjoy most about your position?
A: I am Vice President of Leadership Development and Research for the Human Rights Campaign Foundation. This job is the perfect blend of my experience as a researcher and study director and my love for mentorship and creating opportunities for people in our community to thrive.
Q: LGBTQ+ women are underrepresented at every stage of the management pipeline. How have you navigated the career ladder to get to your level as an out lesbian?
A: I do not "shrink." It's easier said than done, at times; often the expectation is that women won't be as vocal in mixed-gender spaces. When you couple that with the microaggressions Black women face and the way we fear reproach for showing up too boldly in mixed-ethnicity spaces (gotta love intersectionality), it often results in us censoring ourselves or making ourselves small to survive. It is harder, but it is always better to show up authentically and consistently. If it causes you to lose access to people and spaces, they were not right for you to begin with.
Q: Despite some legal protections, LGBTQ+ employees often face hostility in the workplace. Have you had any negative experiences in the workplace?
A: I have been fortunate not to experience any hostility because of my status as a queer woman, even before I came to work at an LGBTQ+ organization. I know, unfortunately, that is not always the case for my queer siblings. HRC strives to create an inclusive culture both internally with our staff and externally in the way we partner with other organizations and cultivate our volunteer leaders. We know that there are factions of the LGBTQ+ community that have not historically been represented in our work—namely, Black and Brown folk and trans individuals—and we strive daily to change that narrative by amplifying their voices in our work and sharing their stories.
Q: Pride Month celebrates queer culture and honors the ongoing movement for LGBTQ+ rights. How do you show your pride and what is your favorite aspect of being part of the LGBTQ+ community?
A: We are so bold, resilient, and brave, and we live unashamed and unafraid. We love our chosen families with the same voracity that we do our blood families, and we remain authentic and true to ourselves despite the right's attempts to oppress us. My favorite thing about being a part of the queer community is how we fight to make sure there will always be a queer community.
Q: How do you balance the responsibilities of motherhood with the stressors of being a Vice President?
A: Honestly, I just do the best I can and remind my kids and my coworkers constantly that I'm just one person trying to manage all the things. It is not easy, but I appreciate the way folks at work make space for my identity as a mom and don't expect me to JUST be an HRC boss.
Q: What's next for HRC?
A: The country is being flooded with anti-LGBTQ+ bills. In the United States, at least 417 anti-LGBTQ bills have been introduced since the start of this year. HRC is providing critical research support to arm lobbyists and educate lawmakers on the real impact of these bills.
HRC has worked to defeat a remarkable 91% of these bills through the 2022 legislative season. The Foundation is fighting for the LGBTQ+ community in statehouses, in the media, at the federal level, and in the private industry to ensure every member of the LGBTQ+ community has the freedom to live their truth without fear, and with equality under the law.
To learn more about HRC, visit https://www.hrc.org