For over three decades, WWPR has brought women together across the DC region to honor and celebrate the organization's Woman of the Year (WOY) award. The Woman of the Year award recognizes senior-level PR practitioners for reaching the pinnacle of their career and those who have contributed tremendously to the industry, their community, and served as mentors in the field. With the shift in how D.C. does business, this year more than ever was a special time to virtually gather the WWPR community. 
On November 19, WWPR gathered to celebrate the 2020 WOY finalists: 
2020 Winner, Jennifer Curley

, President and CEO, Curley Company

Zain Habboo,

Chief Marketing & Mobilization Officer, International Rescue Committee

Sandra Wills Hannon

, Ph.D, APR, Founder, the Hannon Group
A highlight of the virtual event was the keynote from Nike's Senior Director of Global Communications Kathy Baird, longtime member of WWPR and WOY finalist in 2017. She recognized the need for community and applauded the women who founded WWPR 40 years ago. "The community of Washington Women in Public Relations is not just there for the good times, and the promotions, and the awards, and the accolades. We are here for the tough times too. And yes as women, we are resilient. But we also don't have to go about it alone," said Kathy. "This year might be testing us like no other, but women in public relations, we are the definition of strength and resilience."  
WOY host and WWPR President, Sarah Beth Cloar, served as our emcee for the event. She recognized our founding in 1980 and shared a few clips of WWPR members – both current and past – speaking to their experience and appreciation of their time with the organization.
Each of the nominees had an opportunity to share a few remarks on their career and why this nomination was important to them. After much anticipation, 2019 WOY Maura Corbett, Founder and CEO of the Glen Echo Group, talked about the difference a year makes and announced the 2020 WOY award recipient. "Here we are on a Zoom, talking about how much has changed in a single year. 2020 has become a hashtag, and not a good one. I remember talking at that time about this being our time for women. Surprisingly in 2020, I feel that even stronger."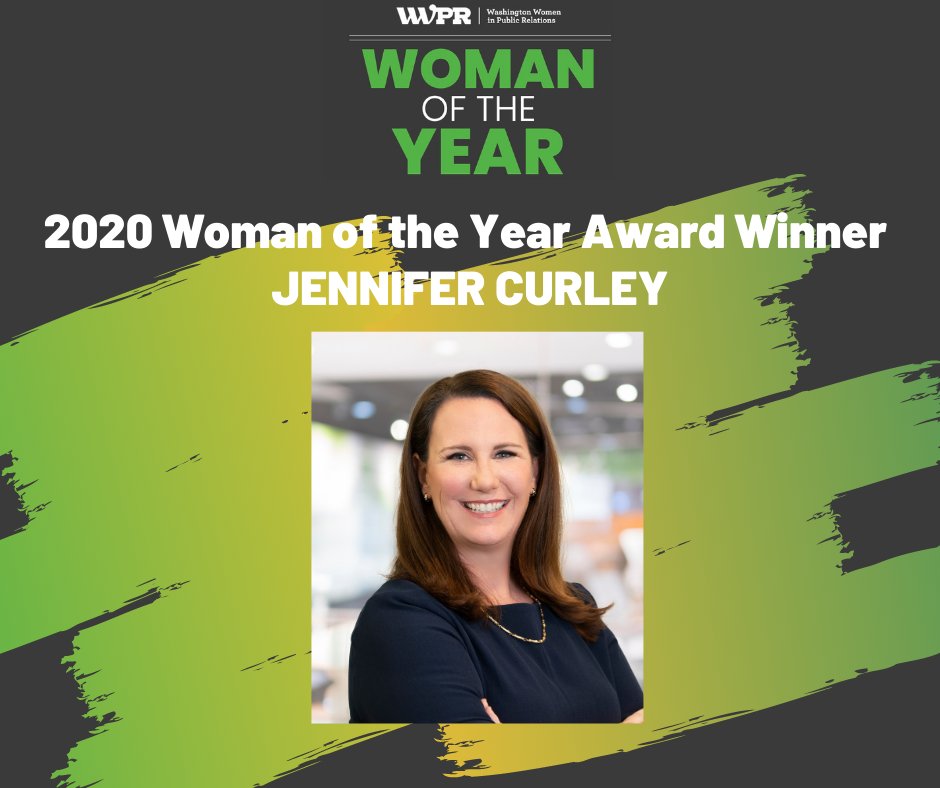 "I was delighted when I opened the super secret ballot and to find it was someone who I have admired for many years; a woman who is an example of a powerful woman CEO, who leads with her values, who regularly invests time and money and attention to help women advance in the workplace," said Maura. "It gives me great pleasure to announce another bright light of 2020, Washington Women in PR's Woman of the Year 2020, Jennifer Curley, CEO and Founder of the Curley Company." 
Accepting her award, Jennifer said, "I've worked with over 70 employees and interns over the course of the Curley Company and the last 18 years – 90% of which have been women. These are the faces I see that inspire me and push me to be the best leader that I can be." 
Sarah Beth closed with virtually presenting Jennifer her award followed by a surprise cameo from Sherry Shepherd, former host of the View and author of "Permission Slips: Every Woman's Guide to Giving Herself a Break," who delivered her sincerest congratulations to Jennifer.     

Watch a replay of the virtual event and follow the conversation using the hashtag #WOY2020. For additional information, please contact WWPR Woman of the Year committee co-chairs Hillarie Turner and Jacqueline Wilson at woy@wwpr.org.