Maggie Moore is a Senior Communications and Events Manager at Partnership for Public Service and serves on the WWPR Board as Co-chair on the Pro Bono Committee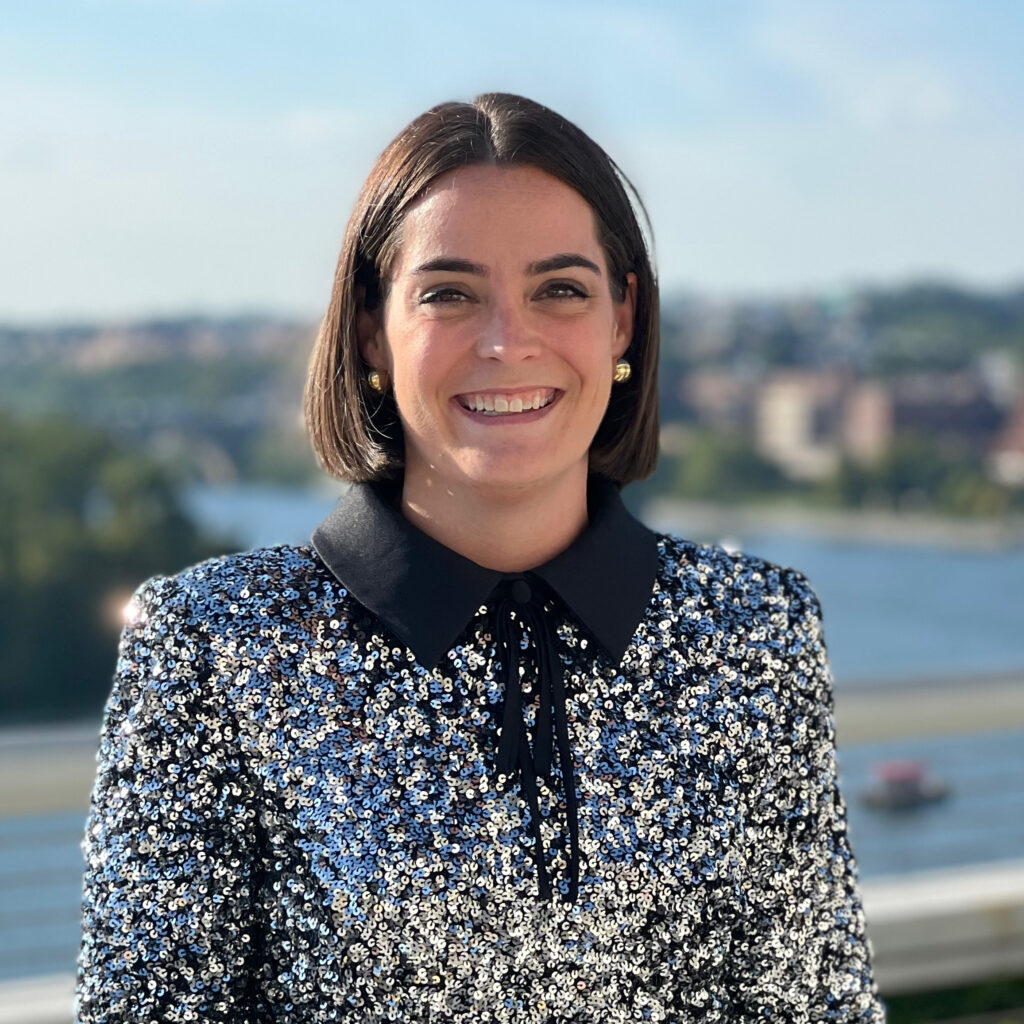 Tell me about your background and what drew you to your current position.
I work as the senior events and communications manager at the Partnership for Public Service, a position I'll have held for two years this May. Prior to the Partnership, I was a communications officer at the U.S Agency for International Development, a highly rewarding but high intensity job that focuses on humanitarian disasters around the world. I was ready to leave the government, but not public service and found a mission-driven nonprofit that focuses on helping the federal government do its job better!
Describe a typical day at work.
What I love about event management – and communications in general – is that no day is the same and you get to interact with every aspect of your organization. My days usually start with a few newsletters, Axios and Politico, and a few podcasts, the Daily and Up First, while I commute to work. After some email triage, I'm usually supporting an event, which usually focuses on vendor management – catering, American Sign Language (ASL) interpreters – and helping to troubleshoot any last-minute issues. If there isn't an event, I'm planning for events coming up in the next two weeks to six months. That usually entails meeting with my communications counterparts and the program team to ensure everyone is on track with their event-related deliverables. Because there are so many events happening, and at various stages, I live and die by my calendar and project management tool, Asana "my tasks" to know what's taking top priority of the day. In addition to events, I manage the Samuel J. Heyman Service to America Medals (Sammies), which recognize career federal employees for their incredible work. Depending on the time of year, I'm either doing outreach for nominations, reviewing nominations, or coordinating various events and media for the honorees.
What is the most exciting or rewarding project you have done recently or in your overall career?
Every fall, I plan the annual Samuel J. Heyman Service to America Medals (Sammies) awards gala at the Kennedy Center – it's the culmination of literally a year's worth of work. I get to see a theater full of prestigious leaders celebrate our nation's top federal employees. Last year's attendees included Second Gentleman Doug Emhoff, Ford Foundation President Darren Walker, author Michael Lewis, and Dr. Anthony Fauci. They get to see firsthand the public servants who are making a difference on behalf of the American government and its citizens. It is exciting to lead an effort that invigorates and inspires luminaries like that.
But more importantly, the Sammies are a moment for our honorees to feel special, seen and honored in a way that they might not have experienced before. It's like they're Cinderella and I'm their Fairy Godmother. I get to make dreams come true, without a wand or pumpkin carriages.
Bonus: I also found out this week that the 2022 Sammies awards ceremony received an honorable mention by PRNEWS' 2023 Nonprofit Awards.
What does Women's History month mean to you?
Women's History Month is a special time of year for me. My twin sister and I were born on International Women's Day (March 8) and raised by a fierce feminist and a cadre of strong Southern women (we called them Boss Aunties). Growing up, we'd celebrate by learning about women who did big things and made good trouble. Later, I started my own women-focused nonprofit and would spend the month uplifting the stories of women we supported, who are making their own impact and trouble in the world. Today, I continue to uplift stories of women who paved the way and champion women pushing forward today (monthly giving! supporting women-owned businesses! dinner out with my girlfriends!).
Is there any particular book, podcast or influencer you would recommend? How has it impacted your life?
I'm a big fan of The Art of Gathering: How We Meet and Why It Matters by Priya Parker. Even if you aren't an event professional, it's an amazing book that helps its readers think intentionally about events, focusing on purpose and attendee experience, which brings clarity about every decision and what's right for this particular event. It's applicable to events big or small, personal or public, casual or high-stakes. UN General Assembly down to dinner parties. I now begin event planning by asking "Why are we hosting this event?" and let that answer dictate everything from the guest list to venue, how to help your attendees prepare, experience and leave your event.
What PR trends do you see happening in 2023 and what kind of influence has it had or will have on professionals in the industry?
Prior to the pandemic, we defaulted to meeting in-person. During the pandemic, we met virtually. In the last year, I have seen a big swing toward hybrid events – where there are attendees in-person as well as online. Hybrid events are the most challenging of all and largely a new way for events to take place. Not an in-person event with a live-stream component, but one that encourages full participation equitably and inclusively for both. It takes a lot more preparation and requires a strong and skillful facilitator to pull it off effectively. We're all still learning what hybrid best practices are and, if we want to gather in person what added value needs to happen in order to encourage people to come.
Why did you join WWPR and what have you gained from your experience?
I chose WWPR for two reasons – I was looking to make a difference in DC and I was looking to broaden my communications community. Last year, I closed the nonprofit that I co-founded to help young women in Washington seeking careers in public service. I had a hole in my life where I was able to make a meaningful contribution to women in my community. When I heard about WWPR, its mission and what I can offer seemed to align perfectly – melding my experience in communications with my nonprofit background to serve as the Pro Bono Co-chair. I've only been a member since September 2022, but I've already felt like I'm meeting like-minded people and supporting my wider DC community.