WWPR Content Committee member Emma Gresser connected with WWPR Pro-Bono Committee member, Shannon Bishop-Green, to talk about her career trajectory, how she got involved in WWPR, and her 100s of croissants.
Tell me a little about your background and current day job.
I grew up in a family that really valued volunteering and giving back to the community – this has guided my entire career. I want to help people live healthier, happier lives—and working in communications is the best way for me to do this. After studying Public Relations at Marquette University in Milwaukee, Wisconsin (where I briefly entertained the idea of Sports Journalism), I moved to Washington, D.C. for an incredible internship opportunity with Ogilvy Washington. The internship reinforced that I was in the right field and the right city to drive change. After Ogilvy, I worked in-house at the American Medical Group Association for five years and now I have the privilege of being a Senior Director at McCabe Message Partners, a DC-based agency that focuses exclusively on health and the issues that affect it.
How has your experience been like with WWPR and what advice would you give new members?
It won't surprise you that with my background of volunteering, WWPR's Pro Bono Committee was right up my alley. Almost two years ago, a friend recommended WWPR and this committee as a great way to meet like-minded women and give back to the community. The Pro Bono Committee chairs and members have been incredibly welcoming, which has made this experience all the more enjoyable. I love that WWPR's Pro Bono Committee offers myriad ways of contributing—and there's room to build new skills. We're always looking for active WWPR members to join the Pro Bono Committee. If you're interested, you can sign up on the WWPR website. Right now, the Pro Bono Committee is supporting the Academy of Hope Adult Public Charter School, which provides educational programming integrated with career development and supportive services to adult students in the DC area. Whether you're interested in lending your branding expertise or your social media skills, there's a place for you!
How has COVID-19 affected the way your organization functions? How has your work, specific to health and social justice, been impacted?
COVID-19 has certainly affected the way our agency functions. Like many organizations, we're all working remotely in order to reduce community spread of the virus. I think it's special that our culture has remained incredibly strong amidst the change to virtual life. Personally, my work has become even more meaningful during the pandemic. I spend nearly every hour of the day working on issues affecting the COVID-19 response or health equity. Being able to play a pivotal role in the communications around these topics is something I don't take for granted.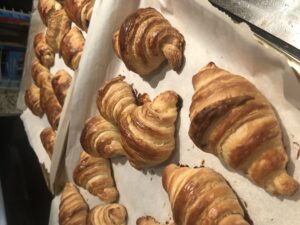 During this time, was there any hobby you picked up or spent more time doing that you have enjoyed?
Years ago, I went to a croissant-making class with close friends and left thinking that I'd never have the time to make croissants from scratch. COVID-19 had other ideas. Now, I think I could open a bakery with the number of croissants I've made during the pandemic—it's well into the hundreds. Chocolate, ham and cheese, herb, Nutella. Luckily, dropping off fresh croissants has been a good excuse for social distanced, masked, outdoor visits with friends in the area.
What are some of your favorite things to do in the DMV area and how have you adjusted since Covid-19?
Running helps balance out my baking. My husband and I moved during the pandemic, so I've enjoyed exploring the new neighborhood and nearby trails while getting exercise and fresh air. I still try to get down to the National Mall and run around the monuments on a regular basis—early in the morning before it's too crowded and with a gaiter on. I often say that when I don't think it's cool to be able to do that, it'll be time to leave DC.
I've most missed traveling with my husband and visiting friends and family, and can't wait to make up for lost time after getting vaccines.