WWPR Vice President Danielle Veira, Senior Manager, Public Relations and Advocacy Communications at the American Diabetes Association, has found her passion combining her PR skills with nonprofit advocacy. WWPR talked with Danielle about her advocacy work and career, and her advice for WWPR members wanting to get involved in PR for a nonprofit or association.
Her Unique Journey to Advocacy Communications
Danielle's journey to finding the right career path began with a passion for policy. The initial plan was to be a health or education policy expert with her background in political science and sociology, but while getting her start on Capitol Hill working for an Ohio Senator she found helping the press secretary draft content turned out to be her true passion.
After deciding to make the career change to communications, joining WWPR was one of her first moves, ultimately leading to her first job in PR through a WWPR connection. Her first full-time job in communications was with a strategic communications firm, which eventually led to her current role.
Once she found her stride in nonprofit communications, Danielle knew it was where she wanted to be. She says her favorite part about her advocacy role is finding a way to tell a story in a way that influences people to take action. She also loves the richness of stories that can be found working at a mission-driven organization, and that the end goal is to improve people's lives.
Advocating for People with Diabetes
At the American Diabetes Association, Danielle works directly with the government affairs and advocacy department to support the organization's policy and advocacy efforts. She helps share the stories of the millions of people affected by diabetes to stress the urgency of the diabetes epidemic, with the goal of creating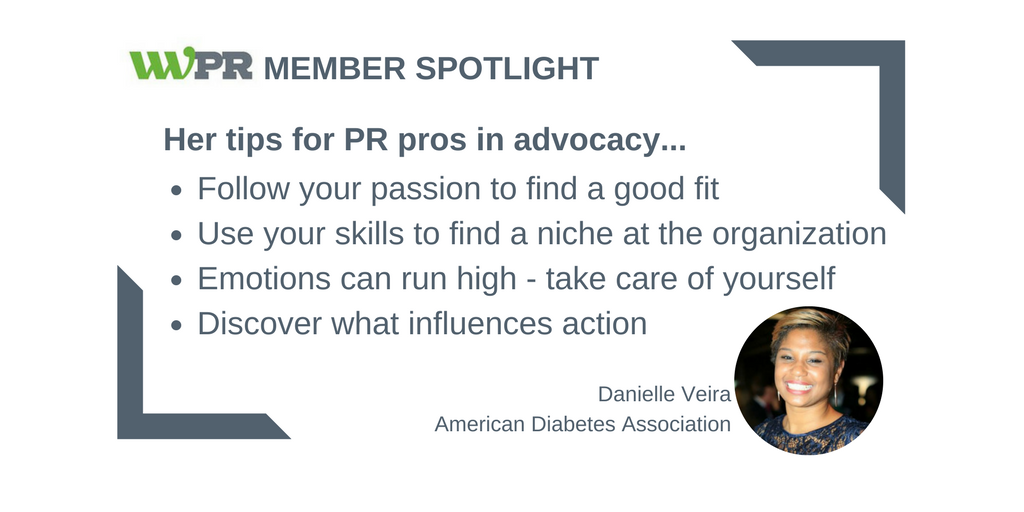 awareness among our nation's leaders and affecting policy.
In her day-to-day efforts, she's usually involved in a combination of several activities. These range from publicly urging Congress to protect access to care for people living with diabetes; collecting stories from patients, caregivers, and health care providers affected by diabetes; building relationships with key reporters; prepping spokespeople for interviews; and supporting the organization's advocacy initiatives.
In addition to her work, Danielle has a personal connection to diabetes. She was diagnosed with type 1 diabetes almost 20 years ago, and counts herself as truly blessed to be doing work that directly affects herself, her family and nearly 116 million other people each day.
Volunteering with WWPR
Shortly after Danielle joined WWPR, she got involved with the 2012 PR Woman of the Year committee. She has continued being involved in the organization and is currently serving for her fourth year on the WWPR Board.
Danielle's passion for WWPR is rooted in her belief that WWPR not only provides female communicators with a network of support and professional development, but it is also a place where women can cultivate life-long friendships. By being so much more than a professional society, WWPR is committed to helping women in the communications field reach their career goals and find inspiration.
Advice for WWPR Members Wanting to Advocate for a Good Cause
Danielle believes that communicators have a unique skill set that makes us so valuable to nonprofit and advocacy organizations – especially those that can't afford PR services. She encourages members to make a significant impact by volunteering time and skills to organizations like these, and help provide the critical strategic support that many nonprofits may not have access to.
In The Morning…
Danielle's morning routine:
First thing – read a daily devotional (right now it's a compilation of daily devotionals that President Obama's faith advisor authored)
A quick 30-45 minute workout and shower, if she can avoid the dreaded snooze
Then a green smoothie to help her take on the day

Article by Melinda Tolliver, a digital communications specialist who has worked in a variety of settings throughout her career. She loves the thrill of stringing together powerful, eloquent messages in under 140 characters, and creating thoughtful visuals to go with it. Her current position is with the Association of American Law Schools as a digitally-focused communications coordinator. Follow her tweets and 'grams at @mmptolliver.