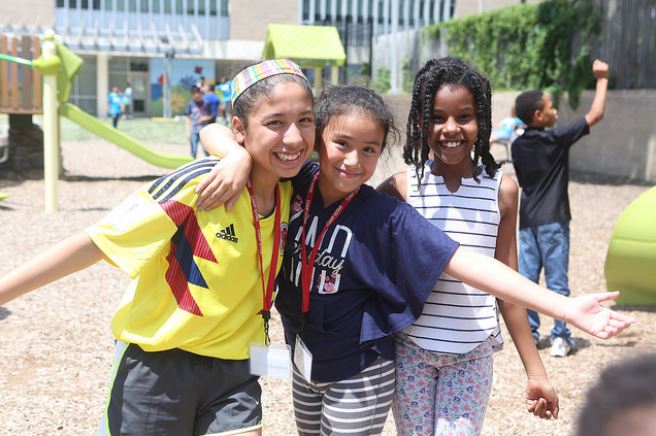 Camp has sadly come to an end, but that means it's time for after-school programs at Sitar.
Though you'd never guess it from the weather we've been having, summer is winding down, and Sitar is gearing up for fall programs. But at Sitar, the two aren't totally disconnected. While Camp Sitar wrapped up earlier in August, its impacts are long-lasting, helping prepare students for fall classes.
Take 5-year-old Sitar camper, Elliot. Over the summer, Elliot joined in music, dance and art activities as well as nature walks, language exploration, meditative thought and, of course, plenty of play! All of this fun makes a difference: Last year, more than 90 percent of Sitar students began using new words learned in their early childhood arts class. So Elliot can start kindergarten next week fully prepared.
This kind of summer program is especially important for the 80 percent of Sitar students who come from low-income families. Children from families with low-income can enter school up to 2.5 years behind their fellow students just because of a lack of access to summer education. But communities with arts institutions, like Sitar, have greater health, safety and—crucial to students heading back to the classroom in the coming weeks—school effectiveness.
During the school year, Sitar's Arts Afterschool program offers more than 160 multidisciplinary arts classes and private instrumental music lessons. Each semester, Sitar gives after-school music, drama, dance, visual arts, digital arts and creative writing classes to about 500 children who not only master an art form, but acquire skills vital to later success in life: effective communication, collaboration, critical thinking, initiative and accountability. As students progress, the Center offers opportunities for students to engage more deeply in their chosen art forms, prepare for college through skills-building workshops and build civic engagement through community service and outings.

This and every back-to-school season, Sitar serves children from across D.C., but those in it's Ward 1 neighborhood are particularly in need of its services. In Ward 1, 24.5 percent of children live below the federal poverty line, and 45 percent of households are led by single women. Sitar's core mission is to offer arts programs to low-income families who might not otherwise have the opportunity. Read more about Sitar, and keep up with news and events on their website: www.sitarartscenter.org/.