Digital marketing communications specialist Florence Sumaray, a new addition to WWPR's membership, is a pro at coffee dates—and it's part of her movement to connect with more people offline.
It wasn't quite coffee, but I had the pleasure of connecting with Florence about her background, her goals and what she likes to do outside of the office. Get to know her, too:
Her Movement
Florence has started a campaign focused on connecting with people irl (in real life) and stepping away from our devices. Back in November, she shared a post on Facebook asking to connect with her community: "Would like to Meet 50 people in 30 Days #onecup #onme #whynot."
Now, she's on her 116th coffee date and she said the response has been overwhelming. For her, it's all about connecting one-on-one for conversation, inspiration, and just pure listening.
Her Work
She has been working in the nonprofit sector for over 15 years in digital marketing communications. In her experience, she's worked on developing and creating marketing plans, managing designers, and executing campaigns.
Currently, Florence supports the the American Dental Education Association (ADEA)'s events through their marketing department. What she loves best is the team she works with—their diligence, organization, and work acumen. She calls her current supervisor a visionary who is collaborative, supportive, and ensures branding and messaging is consistent throughout the organization.
Additionally, she is also a licensed real estate professional with The Nellis Group, where she helps families in the area grow their wealth portfolio. The most rewarding part of the business is making a connection with people, keeping up with the changing neighborhoods and using various technologies that help streamline the process to better serve clients.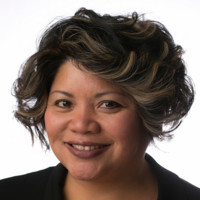 "If you want to grow as an individual both personally and professionally, join a group that is consistent in building each other up and provides events and forums to learn. WWPR is a great opportunity for professional development, networking and surrounding yourself with inspiring communicators in the industry."
Her Interest in WWPR
Florence found WWPR through Content Marketing Chair Jenn Dunn—a former colleague of hers—and she was sold after her first event! She loves that the group is engaging, creative, and filled with women who are ambitious, inspiring, and powerful.
Florence hopes to get more involved by networking with colleagues at events and keeping up on the latest PR trends. She was also recently recruited to join the content marketing committee (see her blog post on the Edelman IP & Insights event) and is interested in joining the digital team as well.
Her Out-of-Office Hours
In addition to all her coffee dates, Florence has been a volunteer with the American Diabetes Association for the past 10 years and speaks at various health fairs around the area to share her story of reversing her Type 2 Diabetes. She also works at a gym called The WorX in Alexandria coaching members on health and fitness, and does high-intensity workouts, Jazzercise and Bikram Yoga in her spare time.
Florence is an avid fan of all Washington, D.C., sports teams, but especially the Capitals—she was downtown at all the watch parties and the championship parade after their win last year. You can also find her at the latest new restaurants, taking photos and writing reviews on Yelp.
Now that you've gotten to know her a little bit, care to grab coffee?