A Conversation with NPR's COO Isabel Lara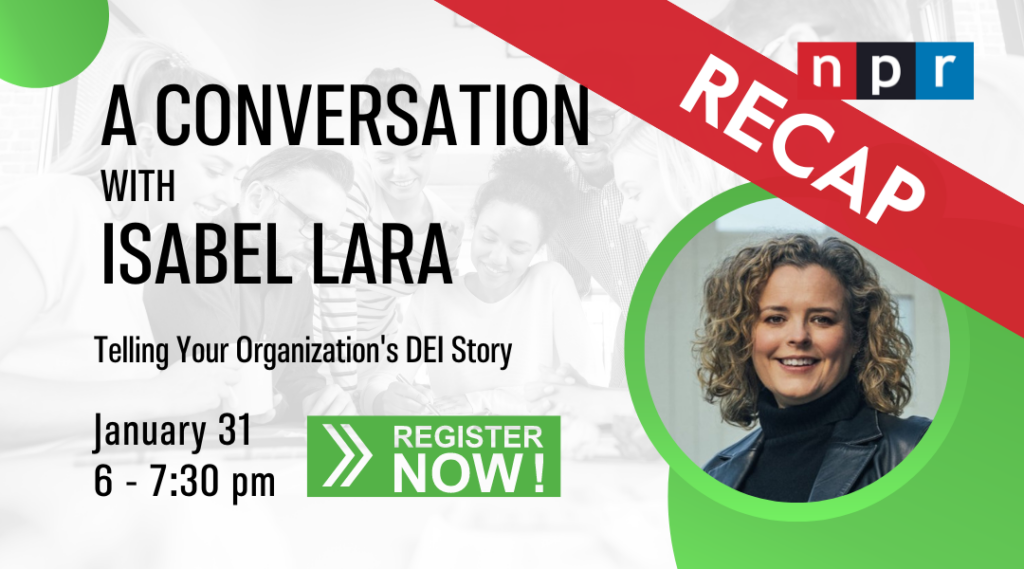 Last month, WWPR had the privilege to host an open conversation with NPR's first Chief Communications Officer, Isabel Lara, moderated by Sukhi Suhni, WWPR advisory board member and SVP, Head of Integrated Brand Communications at Wells Fargo.
Lara's anecdotes and tips about her professional experience at NPR gave guests a look into communications from the broadcast media lens, and how those lessons can apply to different industries. As a Latina and NPR's first CCO, Isabel understands the challenges and importance of DEI. Check out some key takeaways from our conversation with her below.
Talk to the Audience Like You're Talking to Your Neighbor
Ever since NPR first started telling stories in mainstream media in 1967, its motto has been to talk to the audience like you're talking to your neighbor. For NPR, this means to have a voice that sounds familiar, like someone you know, which feels more conversational. NPR offers a diverse group of hosts and staff that speak to NPR's wide variety of listeners.
Your Audience Wants to Feel Like They are "There"
Your audience wants to feel represented within your organization to feel an authentic connection. For NPR, not only is it important to have diverse on-air talent that reflects its audience, but also within its organization's overall staff and leadership. As Isabela stated, "it is at the heart of what we do." 
DEI is an Ongoing Mission
It has become more difficult to report the facts as many topics are fraught with controversy. In today's news climate, Isabela shared that is important to state the facts, not opinions when covering current events. As times today can feel divisive, it is more important than ever to reach towards diversity across different voices so that none are left out.
Internal Communications Should Also be Considered as External Communications
Since NPR is a broadcast media station, information released, even internally, is a topic of public interest. An internal email can easily be screenshotted and shared on social media. This can happen in any industry and in any organization. Therefore, it is important to consider that internal communications, such as staff letters, policies, statements, etc. can be made public at any time. 
Including Multicultural Communications is Important
Often times in public relations, principal, big name news outlets are targeted for pitching stories, events, people, etc. To reach wider and more diverse, interested audiences, a multicultural aspect of planning should be considered and included. It is also a great way to communicate with those audiences about the way you are connected. When crafting media relations strategies for her on-air talent, Isabel asks them what outlets matter most – to them, to their grandmother, to their community. This is fundamental to meeting people where they're at.