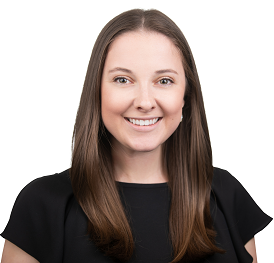 Tell me about your background and what drew you to your current position at Adfero.
I've always loved to write, especially as a tool to share the impactful stories or experiences I've learned from others. For the longest time I wanted to be a journalist, but realized there were aspects of both journalism and communication I enjoyed and wanted out of a career. When pursuing my masters at American University, I gained agency experience through an internship and quickly realized it's what I want to do full-time. The energy and excitement of working with a variety of clients on a variety of projects was exhilarating. Following my graduation, I wanted to stay in DC and quickly found myself at Adfero. The ability to work across industries through Adfero's public affairs practice and take on new opportunities to continuously learn and grow was, and continues to be, of great interest to me.
What is a typical day like in your current role as an Account Executive?
No two days are the same, but I generally like to start each morning by reading through the newsletters and alerts I'm signed up for – multiple Axios and POLITICO newsletters, New York Times' The Morning, and a few others – to see if anything pertains to or would be of interest for my clients. Each day is typically spent doing a variety of paid and earned media projects, from writing copy to conducting research to launching ads, along with meetings to break up everything in between. I work a hybrid schedule and typically spend three days in the office and two working from home. My days spent in the office serve as a great opportunity to collaborate with teammates, ask questions and check-in on upcoming projects or events.
What is the most exciting or rewarding project or experience you've had in your career?
The best is yet to come and I'm sure the most rewarding moments are still ahead, but thus far I'd say successfully navigating graduate school along with various jobs and internships has been a highlight. Completing my capstone – also known as my "thesis" – in graduate school was very rewarding. I studied media usage and screen time among young children, how families implement – or don't implement – screen time in their homes, and what this may mean for childhood development. The goal wasn't to say screens are bad, but rather gain a better understanding of how we can best incorporate them into the life of a young child in such a technology-driven society. I interviewed more than a dozen parents of young children and conducted months of research and was so thankful to be recognized by American University's School of Communication for my work at the end of the year.
Working in the creative space, how do you get inspired for a new campaign?
I'm always inspired by my team! Any time we are prepping for a new campaign, brainstorms always get me inspired. I like to scroll through various social channels and make note of what's trending, whether it be creative trends such as memes or GIFs, or copy trends such as hashtags, emoji sequences and more, to see how we can incorporate these into campaigns and weave in our messaging. Bringing these ideas and others back to my team, while also hearing their ideas, always sparks great inspiration for what's coming down the pike.
Is there any particular book, podcast or influencer you would recommend following? How has it impacted your life?
A few months ago, I discovered Timm Chiusano on TikTok. He is a creative executive based in New York who shares daily glimpses into how he navigates his personal and professional life. He also shares tidbits of career advice and simply, how to make the most of every day. Chiusano is across platforms on Instagram and YouTube too, but he's mainly known for his inspiring messages and words of wisdom on TikTok. Each post puts a smile on my face and reminds me to always look for the good in everything. If you're on TikTok, definitely check him out!
What PR trends do you see happening in 2023 and what kind of influence has it had or will have on professionals in the industry?
I think the shifts across social media platforms will continue to impact the industry, specifically, Instagram turning its focus back to photos instead of videos and reels, and Twitter's always changing advertising policies. I'm not sure how, but I can definitely see those in the industry altering their focus or content on these platforms. I also think the resurgence of being back in person will continue to influence the industry with more opportunities to convene, launch events, meet with the media and more.
What drew you to WWPR initially as a student and now professionally and what are you looking to gain from the organization this year?
I learned of WWPR when I was in graduate school at American University – I can't remember exactly where, but likely through a newsletter or social post. I knew when I was in grad school that I wanted to stay in DC and launch my career here. WWPR seemed like the best place to start. I attended a few virtual meetings my first year as a member and am now excited to join folks in person. After joining Adfero, I met a few coworkers who are members as well and have been able to learn more about the organization through them. I'm excited for the opportunities WWPR provides to connect and learn from other women in Washington, enhance my PR skill set and keep a finger on the pulse of what is going on in the world of communication. As I continue to discover specific areas of PR that I want to focus on, I'm confident I can sharpen my knowledge through WWPR webinars and speaker series, and of course, through the members.
What other hobbies do you enjoy doing in the area?
When the weather is warm, I like to play tennis or go on long walks through the city with friends – this is usually followed by trying a new coffee shop or restaurant. I'm always keeping an eye on events coming to DC and often save Instagram posts from the Washingtonian and other accounts with details of upcoming shows, exhibits or festivals to check out. As the spring approaches, I'm looking forward to some upcoming shows at the Kennedy Center, concerts down at The Wharf, and Nats games.