How I Got Started 
Prior to starting her own, Wendy was the EVP/Partner with Porter Novelli where she ran the strategic planning and research group.  When leaving Porter in 2009, she wanted to focus on the aspect of the work she was most passionate about: brand strategy. Wendy then started consulting with nonprofits on refreshing their branding and messaging based on solid research insights. Soon after, she launched her own business and was hired by a former client to assist his association in their search for a full-service agency to launch a $20-million national campaign. Currently, she now works with clients on agency searches. In addition, she has been fortunate to have a flourishing consulting business and work with challenging clients and outstanding creative, research and PR partners. 
Challenges in Public Relations 
What Wendy finds most challenging, in a good way, is digging through tons of research and uncovering audience insights that lead to a compelling strategy, value proposition and messaging.  What she doesn't find most challenging in a not-so-good way is running out of toner cartridges and having to run to Staples in the middle of a project.
The Benefits of Joining WWPR

Wendy joined WWPR after the honor of being selected as the 2018 Woman of the Year.  While she was certainly aware of WWPR and had many friends and colleagues who are active in the organization, it wasn't until the Woman of the Year event that she truly recognized what an extraordinary group this was. She was inspired by the other accomplished WoY finalists, Kate Perrin and Gloria Rodriguez, and their tremendous dedication to the profession and to helping women prosper in PR.  And, she has been incredibly impressed with the commitment and engagement of the WWPR Board and professional community.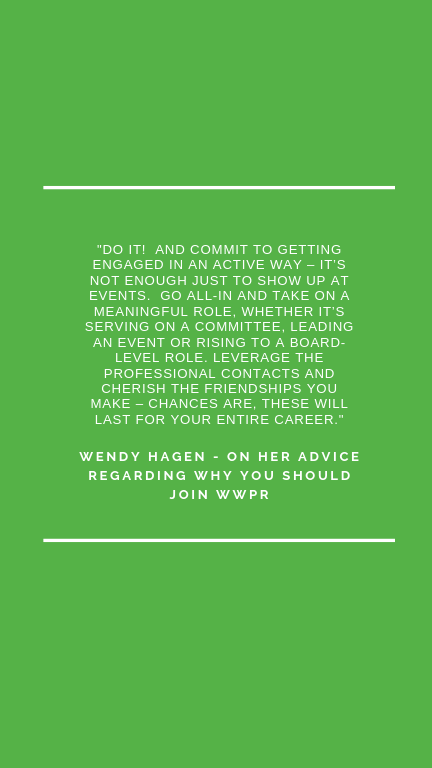 2018 WWPR's Woman of the Year (WOY) Award 
As anyone could tell from her stunned reaction and acceptance speech, Wendy was delightfully surprised to have been selected as Woman of the Year by WWPR.  She was thrilled to be recognized, having had a rather non-traditional career path that combined a background in advertising, client-side marketing, PR firm leadership and launching her own branding consultancy. To her, it was so gratifying to receive so many well wishes from friends and colleagues who celebrated this award right along with her.. Wendy is so grateful to WWPR for this honor – it meant so much to her.
Involvement with Other Professional Organizations

Wendy has always been a believer in engaging in professional organizations and networking with peers. Throughout her career, she's been active in and served on the Boards of the Advertising Federation of DC, American Marketing Association (DC Chapter), and served on the Steering Committee for Advertising Week DC.  For the past year, she has been mentoring a young woman who's building her communications career, and gaining as much from the experience and exchange of ideas as she (hopefully) is!
Keeping up with the latest PR Trends 
Wendy keeps up with the trades (PR and advertising) and makes an effort to connect with her personal network of professionals across a variety of disciplines, from researchers to public affairs professionals; graphic designers to digital strategists. She loves reading about award-winning communications campaigns, and always gains new insights by reading about winning submissions whether it's PRWeek Awards, THOTH, Sabre Awards or Effie's.  Wendy geeks out on books about strategy, creativity and behavior change, and always find cool new ideas in Fast Company magazine. 
Trends Happening in Communications

There's more focus on research-based strategy and insight and much more demand for measurement and evaluation.  But, the one thing that hasn't changed is the importance of storytelling and creating a unified brand and compelling narrative. Clients expect agency partners to be proactive, strategic and integrated communications experts.  
Favorite Things to do in the DMV
Wendy lives in Dupont Circle and is a big fan of walking all over the city (especially when she can bring her dog, Rufus, along). She and her husband recently tried electric scooters for the first time (so fun!). She has also served on the Board of Woolly Mammoth Theatre for ten years and absolutely loves going to see provocative new plays that speak to issues of today and makes one think to get out of your comfort zone.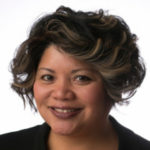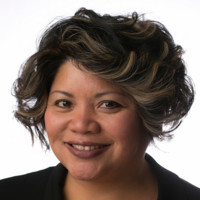 Advice to Communications Professionals
She believes that all communications professionals need to be students of culture – to stay curious and try to gain an understanding of what's going on in our neighborhood, our city and in society in general.  Wendy recently read Robin DeAngelo's book, "White Fragility," about the discomfort many white Americans feel about confronting racism. She looks forward to participating in an Equity, Diversity and Inclusion workshop this Fall and feels that this profession still has a long way to go in terms of inclusivity and representation.