Aftercare. A simple term but an often complex system to navigate for parents whose jobs don't allow them to pick up their kids when the school day ends. Beyond getting kids from school to an aftercare facility, the cost can be a factor, making even convenient or desirable programs out of reach for working families.
That's where once again, Sitar Arts Center bridges a gap.
Sitar began its first aftercare pilot program in Spring 2015 to provide a place for children to thrive via a range of arts activities. In the beginning, there were just six students tucked into a corner of the Center, but when Sitar expanded its facility by 2,500 square feet in 2017 following a two-year capital campaign and renovation project, it was able to open the doors to nearly 50 additional students in grades K through 8.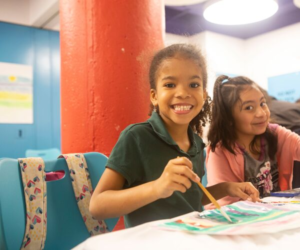 According to Sitar's Aftercare Coordinator Jordan Smith, "Aftercare programs are important because they offer working families the flexibility to work and provide for their children, while their children enjoy a fun, nurturing environment that provides enrichment in academics and the arts." 
Sitar's aftercare program is multifaceted, encompassing:
Educational support through a partnership with

For Love of Children

(FLOC), an organization that provides educational services beyond the classroom. 

Emotional support via Restorative Justice Circles, which are designed to resolve conflict and solve problems through collaboration.  

One-on-one teacher support; and

Opportunities to grow and learn in daily art activities like Capoeira, a dance that evolved from Brazilian martial arts.
Two program tracks are designed to serve the different age ranges: K-3rd grade and 4th-8th grade. In this way, Sitar ensures the classes and projects are developmentally appropriate. 
For families, aftercare at Sitar is appealing because there is a dedicated staff focused on providing the strongest possible programming for the students. The variety of exciting art classes like Capoeira, photography, acting, and oration are all available at affordable prices. 
"More than anything else, it is the connections we make with our families that keep them here," says Smith. "Sitar is a community. We support the whole child and the whole family, and as a result, many of our families have stayed with us for years."
Another element that makes this program special is that it runs year-round, providing a basic developmental need: stability. Students can rely on a consistent safe space outside of school to grow and be themselves. 
Families also benefit from the peace of mind of knowing where their children are and what they are doing with their time.
"Our families know that every day there is a safe place for their students to go where they will receive a healthy snack, get help with their homework, participate in fun activities and classes and be with people who genuinely care about them," says Smith. 
The biggest challenge in operating this program is balancing the needs of all those involved. Getting to know each and every student and their families are essential so that Sitar can support each student's needs. According to Smith, this is the most rewarding and most difficult to balance aspect of the job.   
However, there is no doubt that the program has made an impact on the community. 
Sitar evaluates its programming by surveying parents, teachers and Sitar staff on the impact and outcomes they observe in students. In the last three years, they have seen huge improvements in students' creativity, confidence, and communication. 
One Sitar parent described the changes in her daughter as being more creative and focused at school and with projects at home. 
"Sitar is a place that our families and students view as a home away from home," Smith says. "When you take classes at Sitar, you are not just signing up for a class, you are signing up to become part of the Sitar family." 
Currently, there are 38 students enrolled for the 2019-2020 school year with room for more. To find out more about aftercare enrollment at Sitar Arts Center, go to www.sitarartscenter.org or call (202) 797-2145.