We're calling for our community to #WomanUpDC for WWPR's Woman of the Year (WOY) award: to recognize woman who are bold, courageous and resilient enough to persevere through even the most difficult challenges in both work and life – and nominate them!
Throughout the years, the WOY award has honored individuals who have displayed true leadership throughout her career – both in public relations and the community – and shown their devotion to the advancement of fellow women. Our winners have held top positions in government, agencies, and Fortune 500 companies; led nonprofit boards; been active in mentoring other women; and given their whole hearts to variety of causes.
Two of our past honorees recently shared what the WOY award meant to them and why they think it's important in our community:

 "After 25 years in communications and market research, it was a thrill to be recognized by my peers for contributions to the field. Being named WWPR's Woman of the Year 2015 was especially gratifying because I have built most of my career in Washington, among so many strong, talented women and men in the industry."  
– Christina Nicols, Senior Vice President, Director of Strategic Planning and Research, Hager Sharp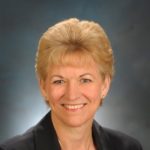 "The award is a reflection of the wonderful work that many women in our community execute on a daily basis at work and in the community. It was such an honor to be selected as the Woman of the Year for 2014 and I'm proud of  WWPR for acknowledging the accomplishments of so many like us."  
– Laura Monica, Vice President for Pepco Holdings Inc.
This year it's more important than ever to credit and highlight the women in D.C. who have made a major impact on our lives and others. #WomanUpDC and join us in celebration on November 17th.
Article by Melinda Tolliver, a digital communications specialist who has worked in a variety of settings throughout her career. She loves the thrill of stringing together powerful, eloquent messages in under 140 characters, and creating thoughtful visuals to go with them. Her current position is with the Association of American Law Schools as a digitally-focused communications manager. Follow her tweets and 'grams at @mmptolliver.