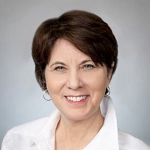 On November 18, WWPR named Susan Waldman, Chief Marketing and Communications Officer of Meals on Wheels America, the 2021 Woman of the Year during a virtual ceremony.
Susan was selected for her dynamic and strong leadership, professionally and personally, amidst the challenging past year as well as her record of excellence and accomplishments in her career thus far. 2020 Woman of the Year honoree Jennifer Curley, President and CEO of Curley Company, had the honor of announcing the winner. Read more about Susan in our announcement press release.
"We've all been challenged this past year in so many ways. What a wonderful way to look up and be in celebration with an amazing group of women." – 2021 Woman of the Year Susan Waldman, Chief Marketing and Communications Officer of Meals on Wheels America

During the ceremony, attendees heard from keynote speaker Shantel Goodman-Luckett, Chief Experience Officer of the National Association for College Admission Counseling and established marketing leader. Here were her top four pieces of advice:
Remember Why You Do This Work
Shantel described the best advice she received from her mentor. It was to always remember what you are here to do. She still uses that advice each day and encourages attendees to do the same whenever their confidence is shaken.
Set Boundaries
Only you can set your own boundaries. Also, don't assume. Manage up to help your leaders lead you. If you don't ask, the answer will always be "no."
Make Sure You Are Aware and Understanding of Others
Especially as a leader, it is important to practice empathy and understanding. Especially with those you don't interact with on a regular basis. Make sure you are regularly listening and actually hearing your employees, as well as regularly evaluating how well your organization is meeting their needs.
Go Where You Are Celebrated, Not Tolerate
You deserve a place where you can be passionate, innovative, and supported. As you find your voice and create boundaries, make sure you are in a place where that is valued. If you are a leader, create space for all associates to not only be celebrated, but also to take care of themselves. That starts with modeling healthy behavior.
The event opened with an address from the Woman of the Year chairs and a special message from 2021 WWPR President Christina Francisco. Brenda Foster, Senior Vice President of Vanguard Communications, and Carrie Fox, Founder and CEO of Mission Partners, Benefit LLC, were also honored as 2021 Woman of the Year finalists.