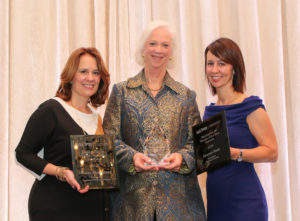 27th annual event recognized leadership among women in communications; three Washington D.C. Metro area women selected as nominees; Deirdre Latour CCO for GE was keynote speaker.
WASHINGTON, Nov. 22, 2016 /PRNewswire-USNewswire/ — Martha Boudreau, chief communications and marketing officer at AARP, was named Washington Women in Public Relations' (WWPR) 2016 PR Woman of the Year on Friday during a ceremony honoring top public relations executives.
Boudreau was one of three public relations professionals honored during the 27th annual award, celebrating outstanding women in communications. The other finalists were Sharon Reis, principal at The Reis Group, and Maria Rodriguez, president at Vanguard Communications. The three finalists were nominated by their peers for their exceptional leadership while shaping influential campaigns in the District and nationwide.
"It is an honor to be named the 2016 Washington PR Woman of the Year and to be surrounded by so many accomplished women who share my passion for the industry. Every year this event serves as a major platform for recognizing women at all levels who are using the power of communications to inform, educate and create change. I applaud WWPR for their history of mentoring the next generation of leaders and for highlighting the work of industry leadership," said Boudreau. "I'd also like to congratulate Maria Rodriguez and Sharon Reis for their many successes. Washington, D.C. is one of the top markets for communications globally and I am thrilled to be recognized by this leading organization."
Boudreau was presented the award by Christina Nichols, the 2015 PR Woman of the Year, at Friday's luncheon.
WWPR, a professional society advancing women communicators in metropolitan Washington, established the Woman of the Year Award in 1990 to honor the most talented women in the public relations profession. This year's luncheon was held at the Fairmont Hotel in Washington, D.C., and featured keynote speaker Deirdre Latour, Chief Communications Officer at General Electric (GE).
In her keynote remarks, Latour emboldened the audience to be the CEOs of their own careers, sharing stories of triumphs and challenges throughout her tenure at GE. She reminded her fellow communicators in the room that every action, or failure to take action, shapes the way an organization is viewed by the public and that communications professionals must always be the stewards and guardians of the brand.
"Martha Boudreau has long been a respected and influential member of our WWPR community and she exemplifies the qualities we look for in a WWPR PR Woman of the Year," said WWPR President, Mara Vandlik. "Year after year, we're tasked with selecting one honoree from a remarkable group of nominees and finalists. This year was no different as we showcase the outstanding accomplishments of Maria, Martha, and Sharon."
The event included a raffle offering a wide range of prizes from popular local businesses, from gift certificates to restaurants, hotels and salons, to highly coveted career coaching sessions. Over $1,000 was raised to benefit the WWPR 2016/2017 pro bono client, Bright Beginnings, Inc. The DC-based organization delivers daily childcare, quality early education, and parenting support for more than 150 homeless children in the District of Columbia.
Special thanks goes to WWPR annual and event sponsors, raffle contributors, and in-kind donors for their generous support of the event and organization.
About the Washington PR Women of the Year Selection Process
Each year, candidates are nominated through an open application process. The applications are then reviewed and evaluated based on standard criteria, which include: accomplishments in the public relations field; contributions to the community; and industry leadership. The final selection is made by a panel of esteemed communications professionals based in the Washington, D.C. area. The judging panel included WWPR President Mara Vandlik; WWPR Vice President Kelly Mack; WWPR Past President Avelyn Austin; 2015 PR Woman of the Year Christina Nicols; and ColorComm Founder and President Lauren Wesley Wilson.
About Washington Women in Public Relations
Washington Women in Public Relations (WWPR) is a member-based professional society cultivating and inspiring female communicators to reach their full potential in the D.C. market and beyond. The organization is committed to providing leadership opportunities, professional development, mentorship, and industry networking. Find out more at www.wwpr.org, "Like" us on Facebook.com/WashingtonWomeninPR, join our group on LinkedIn, and follow us on Twitter @WWPR and Instagram @WWPRDC.
Video – https://youtu.be/oz_ogqa-Dfc
Photo – http://photos.prnewswire.com/prnh/20161121/441926
SOURCE Washington Women in Public Relations