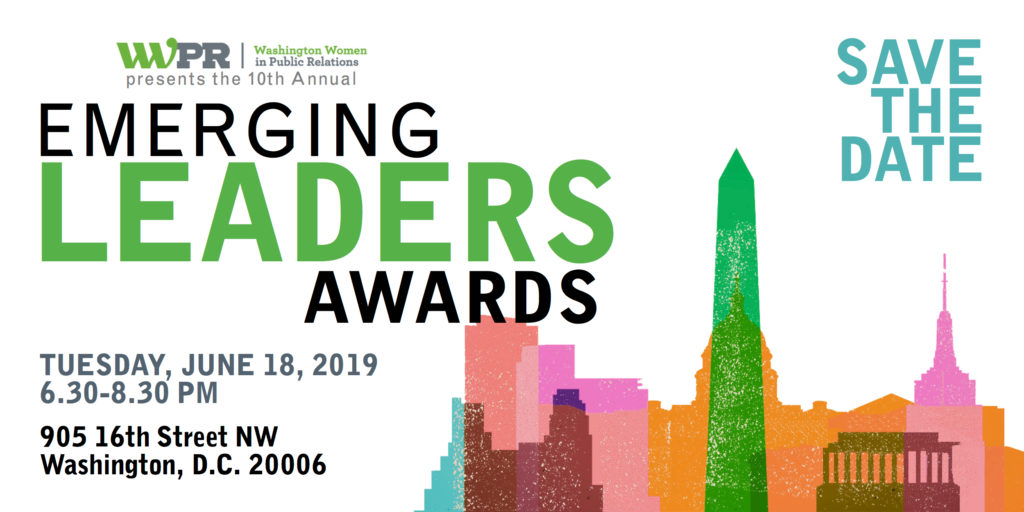 Washington Women in Public Relations (WWPR) is excited to announce the finalists for the 2019 Emerging Leaders Awards!
As we celebrate the 10th anniversary of the Emerging Leaders Awards, we are honoring an Emerging Leader in each of the following six categories: Small-Boutique Agency, Mid-Sized Agency, Global & Large Agency, Government, Non-Profit and In-House.
We were thrilled to receive the most nominations this year in the history of the Emerging Leaders Awards, and are extremely encouraged by the tremendous amount of talent we saw from each of the nominees. Our finalists represent the top three candidates in each of the six categories, as determined by our impressive panel of judges.
Here are the 2019 Finalists:
Small-Boutique Agency:
Krysten Copeland, KC & Co Communications
Kylie McKenna, The Levinson Group
Thy-Ann Nguyen, CURA Strategies

Mid-Sized Agency:
Ariana Solis Gomez, Culture ONE World
Jennifer Heilman, Stratacomm
Stephanie Wight, The Reis Group
Global & Large Agency:
Neely Dockins, Edelman
Jackeline Stewart, Edelman
Lindsey Young, Hager Sharp
Government:
Courtney Cochran, Office of Congresswoman Bonnie Watson Coleman
Jasmine Gossett, District of Columbia Department of Behavioral Health
Hannah Ostroff, Smithsonian
Non-Profit:
Heather Hill, World Hope International
Kate Londen, Young Invincibles
Jackie Marks, Marine Stewardship Council
In-House:
Marissa Bialecki, AARP
Lauren Poteat, National Newspaper Publisher Association, Radio One and Prince George's Community T.V. Station
Laura Ransone, Interel US – Women in Government Relations
We hope you can join us at the awards ceremony and cocktail reception on Tuesday, June 18, when we will announce the honorees of each category.
This year we are excited to welcome Kathy Baird, Managing Director at Ogilvy as our keynote speaker. The event will take place at 905 16th Street NW Washington, DC 20006.
Register for the event today! We look forward to seeing you there and celebrating your pearls of wisdom. Help us spread the word on social media using #ELA2019.