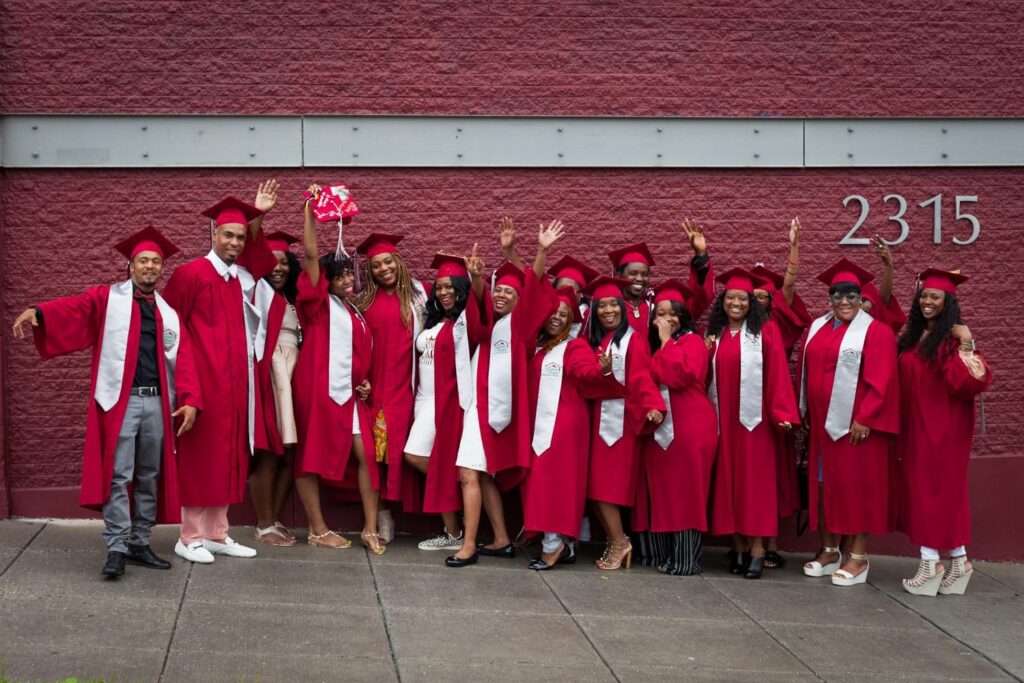 Marja Hilfiker founded Academy of Hope Adult Public Charter School (AoH) on the principles of literacy and justice for all. Thirty-five years later, as the country grapples with the killings of George Floyd in Minneapolis, Breonna Taylor in Kentucky and Ahmaud Arbery in Georgia, those principles continue to anchor AoH's work and are as critical now as they were then. 
"We know that the American education system has long been plagued by discrimination, homophobia/transphobia, classism, and racism," says Joy Bentley Phillips, chief advancement officer at AoH. "There are still policies, procedures, and practices that negatively impact members of these communities. Part of our mission is to create an inclusive environment where everyone is valued and adds value."
The organization's leadership, staff and learners are once again proving what a community can do when they pull together, despite the grief, despair, anger, exhaustion, anxiety and at times deep fear that many in the organization and learners are all feeling.  
"Our direct work with learners helps individuals, and our more recent work in diversity, equity, and inclusion is aimed at effecting change within our own organization where admittedly white supremacist ideas and ways of being also exist," says AoH CEO Lecester Johnson. "But we are also committed to working to effect change beyond our doors on the external systems and policies that impact the broader community. Now more than ever, it is important that we continue our work and our commitment to Black lives."
These events are compounding an already difficult time for AoH. In March, the school was forced to take its learning environment online due to the COVID-19 pandemic. The experience has been a mixed bag, but both students and teachers have been making the best of a challenging situation.
"AoH learners have always impressed me with their resilience, and they continue to do so during the pandemic," says Director of Advocacy and Communications Jamie Fragale. "We've even had four students earn their diploma while in quarantine!"
As much as 75% of learners don't have a computer or Internet at home. AoH started a digital access fund to raise money to provide the necessary equipment. The more than $20,000 that has been raised to date is making a real difference in how people can access learning opportunities.
Beyond the learning needs, there is a personal toll. Several learners have lost family members and loved ones to COVID-19. And the racial breakdown of D.C.'s infection and death rates clearly shows that black and brown communities are suffering at disturbingly disproportionate rates, and that Wards 5, 7 and 8 are most deeply impacted—exactly the locations and demographics of AoH learners. 
AOH has stepped in in several ways beyond the school day, posting content on its social media platforms addressing social isolation, ways adult learners can keep their children engaged in learning while in quarantine, and information on how to get food assistance, to name a few.
"There isn't a playbook for any of this," says Fragale. "But our teachers have done an amazing job of re-designing lesson plans. Our Student Support Team is checking in on learners, and our Workforce Team is connecting learners—many of whom are heads of households—to job openings and the necessary income supports. We're managing the best we can, knowing that our learners have been dealing with quite a lot this year." 
A few weeks ago, Johnson and Fragale hosted student town halls to hear directly from learners about their experience thus far. 
"Roughly 100 learners joined the conversations, and for the most part, they shared that remote learning is working, despite the hurdles. For some learners, the town hall was their first Zoom call ever. One learner—who prior to the COVID crisis did not use email or a computer—logged herself on, turned on her camera, and muted/unmuted herself at all the right times! For most of us, that seems minor. For her, it was huge!"
Looking ahead, AoH is preparing for a new class of learners; registration for the fall semester opens on June 15. Classes will be available both virtually and in-person. And in just a couple of weeks, AoH staff will hand deliver diplomas to 32 graduates at their homes. 
"Graduation is one of my favorite days of the year," Johnson says. "And while it will look a little different this year, we know that for many graduates and their families, it's a day they've dreamed of for many years and one we're deeply honored to share with them."