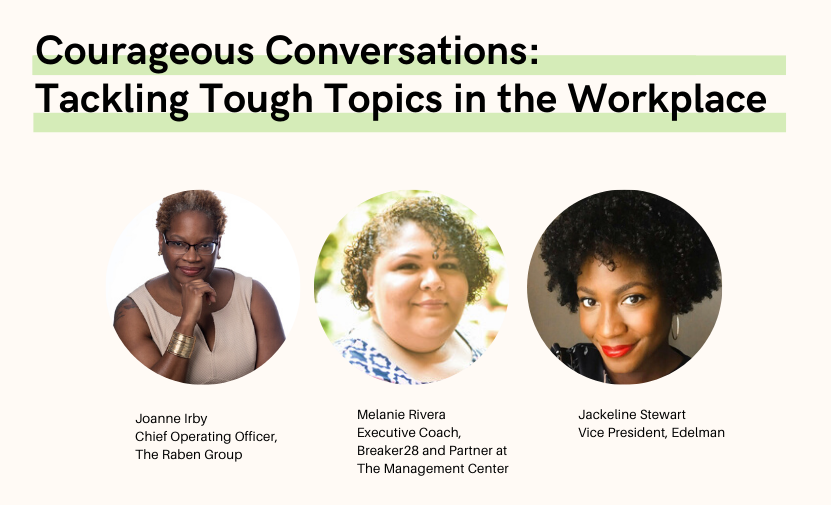 One of the persisting challenges for employers and employees is how to handle tackling tough conversations and controversial topics that some view as too taboo or "distracting". Nonetheless, as our nation faces a national reckoning on issues such as race, we are now forced, and rightly so, to finally figure out a way to face them head on at work. Through open and honest conversations that are both productive and results-driven, we can create a space where everyone, especially people of color, can thrive.
This was the topic of the recent WWPR webinar, "Courageous Conversations – Tackling Tough Conversations in the Workplace" featuring industry leaders, Jackeline Stewart, Mel Rivera and Joanne Irby. These women came together for a timely conversation about how to facilitate these tough conversations and to provide women of all backgrounds with the tools they need to stand out, be successful and shape a healthy workplace culture. 
They spoke directly to the problems that women of color face when confronted with microaggressions in the workplace and how colleagues can step up as effective allies in these situations. Irby explained that employees will typically take their cues on how to behave from leadership so in times like this, it's critical that they take decisive action: "People will do what is valued by the leaders of the organization…There's been an awakening among many of us – whether you're white or black – and for many leaders in organizations…they're ready to do what it takes to live the values that they espouse." 
While many organizations and employees issued statements in support of the protests and the growing demands for change, that was not often reflected in their core values and daily operations. Both Irby and Rivera explained that making the necessary changes would mean that everyone, not just employees of color, speak up to cultivate trust in the organization.  
They also talked about another critical tool for having tough conversations and driving good workplace culture: allyship. Rivera defined an ally as "peers who have our back" and explained that mentorship is important to help employees feel valued: "In organizations that don't have actual mentor programs you sometimes have the do the work under the hood – take on more of the labor – to make sure I'm the obvious choice when an opportunity comes up." Without good mentorship and allyship at organizations, employees of color can often feel ostracized and can make the conclusion that their development doesn't matter. 
Rivera and Irby also had a lot of advice for women so that they can breakthrough, make an impact, have their ideas heard and push their organizations to be better in the process. They suggested that if you are new at a company, you should take the time to understand your new workplace before sharing how you would change things: "Take some time to pause and learn the dynamics, learn the culture, find out who are the folks of influence. Find out what's valued. By learning and doing, you begin to build up capital. Do that first before you try to make change as a new employee," Irby said. 
After becoming familiar with how things work, that's when you can speak up and make informed observations. They also talked about the importance of self-care, avoiding burnout and giving yourself leeway to figure out what your priorities are, because they so often change. Knowing what you want is how you can ensure that you are happy and fulfilled in all aspects of your life, especially work. 
Finally, all three panelists agreed that there's one attribute that we should all utilize, particularly in times like this: courage. Change is never easy but standing in your truth and remaining open is how we go forward together with our colleagues and redefine how we show up at work.