People across the U.S. are listening to podcasts more than ever before—and that includes your organization's target audiences. So, how do you as a communications professional get in on the trend?
On July 27, WWPR held a webinar on how to become a podcast pro featuring WWPR President Christina Francisco. In addition to leading WWPR, Christina is the director of digital marketing and strategy at the American Society of Health-System Pharmacists (ASHP) where she along with her team launched the ASHPOfficial podcasts, featuring a range of conversations exploring key issues impacting the field of pharmacy today.
She shared a few tips to start a podcast for your organization:
1. Create, repurpose, recycle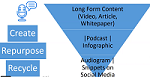 As any good communicator knows, the first place to start is the content. Look at long-form content your organization is already creating—a video, article, whitepaper, etc—and consider repurposing from there as a start.
Christina's recommendations for repurposing includes considering speakers for a potential interview-style podcast with an author or top takeaways from the long-form content. From there, you can even create audiograms (think: short snippets from the podcast for social media). 
All these content strands tie back to the podcast and its value-add to your organization.
2. Consistency is key (as usual)
As with many other aspects of communications, one of the most important things to consider when planning your podcast is consistency. Christina says it is almost as important as the content itself. This applies to how often you post, when you post, and the length of your podcast. 
In Christina's experience, 15-20 minutes is the sweet spot for her organization's podcast, but she's seen some as short as 5 minutes and as long as 60 minutes. She also calls for posting consistency, such as weekly or biweekly. Listeners should know what to expect from your podcast.
3. Pre-plan the recording and launch
As you look to record your podcast, it's important to keep in mind a few of the basics. First, make sure the audio is clean. Christina shared a simple rule: if it doesn't sound good while you record it, it's not going to sound good after you record it. It's important to make sure your hosts and guests have what they need—be it headphones, good Wifi or a quiet room—to make sure the audio is high quality.
During filming, be sure to record your podcast and the podcast assets (aka the intro and outro). She recommended a few platforms—Garageband, Zencastr, and Adobe Audition—to name a few), but has found Zoom to be the easiest, most familiar option as far as guests are concerned. She's recorded over 300 episodes with that as her platform.
When you go to launch your podcast, Christina recommends having 3-5 episodes on-hand for the "binge effect." Similar to when you're watching content on Netflix or Hulu, it's good to have the content at the ready for listeners so you stay top-of-mind and they're able to take a deeper dive.
4. Keep in mind the marketing
Now that you have your 3-5 podcast episodes recorded, what next? The first step is to choose an RSS feed to host your podcast—some of Christina's favorites to look into are Lybsnyn and Podbean.
From there, you submit your link to the platforms, of which Christina recommends Apple and Spotify. Each platform you appear on allows your podcast to be discoverable, so in that sense it's better to be available on more than one. 
Then it's time to leverage the other channels in your arsenal to marketing your podcast to your existing audience. You can use email marketing, social media and in-person events to lean on and grow your podcast audience, as well as using tactics like audiograms and trailers. It's also a good idea to create a website for your podcast to expand your discoverability.
5. Don't sleep on the metrics
One of Christina's passions—and the main things she teaches as an adjunct professor at Georgetown University School of Continuing Studies—is metrics and measurement. When it comes to podcasts, there's a hybrid effect of the metrics you can get depending on the platform.
Some things to consider for tracking podcast metrics:
How many people have listened?

When and where have they listened?

Where do they live and how did they access your podcast?

How much of an episode did they listen to and at what point did they stop listening?

What are your highest ranking episodes?
To track your performance in comparison to other similar podcasts, Christina recommends Chartable, which has both free and paid services. 
And there you have it. More questions? Watch the full webinar on How to Become a Podcast Pro.