Washington Women in Public Relations (WWPR) is pleased to announce the finalists for the
2023 Emerging Leaders Awards (ELAs).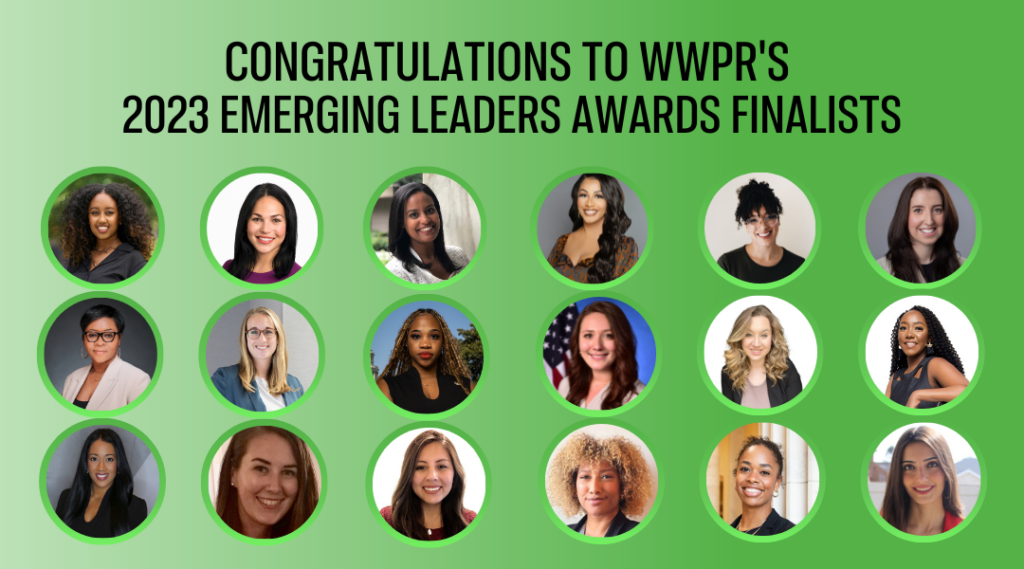 We are excited to celebrate the 13th anniversary of the ELAs, where we will honor emerging leaders in six categories: Small/boutique agencies, mid-to-large sized agencies, government, non-profit, corporate and trade associations.
Ahead of this signature event, we connected with the finalists to hear about their journeys and career advice and helpful insights on how they got to where they are today.
Learn more about the 2023 ELA finalists below and register to attend the virtual awards ceremony on Thursday, June 15 to help us celebrate all of their successes!
Small/Boutique Agency:
The I-PR Agency
"Design your life with intention. Choosing is one of the most powerful things you can do."
LaWanda White is a fierce public relations leader specializing in media relations, strategic planning, and event management. As the founder of a Washington, DC based public relations firm, LaWanda is a multi-award winning public relations strategist who leads multicultural campaigns. Her portfolio includes working as a public relations strategist for restauranteurs, business leaders, and Billboard charting artists. Her clients have been seen on the Food Network, New York Mag, CNN, BET, Fox 5, The Washington Business Journal, The Afro, Golf Digest, The Baltimore Times, The Baltimore Sun, and others.
LaWanda is currently a member of Washington Women in Public Relations and serves as a board member for Black Golfers' Weekend Inc. She received her master's degree in Public Relations and Corporate Communications from Georgetown University and her bachelor's degree in Communications from Old Dominion University.
Trident DMG
"As a woman in the corporate world, it is so important to know how to advocate for yourself. But what I think is even more vital is to find a group of people – both professionally and personally – who lift you up and encourage you to be the best person and deliver the strongest work."
Helen McCarthy is a Director at Trident DMG where she executes comprehensive communications campaigns, including messaging development, earned media, and executive visibility. She is a leader at the firm, running account teams, mentoring staff, and managing relationships for healthcare, technology and retail clients. In her career, Helen has worked across sectors on a range of issues and has particular experience in environmental conservation and corporate sustainability.
Helen has secured media coverage in major outlets such as CNN, Washington Post, and Associated Press. She attended a PRSA Master Class in Crisis Communications and developed an internship learning session on the foundational principles of crisis communications, so that others can learn from her experience.
Before her time with Trident DMG, Helen worked at Weber Shandwick on their Public Affairs team where she focused on issues-based communications. Previously, Helen was a legislative intern for U.S. Representative Scott Peters. Helen graduated from Duke University with a B.A. in Public Policy and Earth & Ocean Sciences.
CURA Strategies
"See yourself and act as the woman you want to become. Take the initiative and set your sights on goals you envision for your future self. In the words of Pharrell Williams, you're already that person…just put yourself in that place."
Falen Petros, MS is skilled at health promotion, education, and community engagement. Falen has a passion for health literacy as a means to advance health equity.
At CURA Strategies, Falen provides day-to-day project management and communications support for the City of Rockford's Community-wide Health Literacy Initiative – made possible by a $3.6M grant from the U.S. Department of Health and Human Services, Office of Minority Health, to fight COVID-19 and improve health literacy among racial and ethnic minority and vulnerable communities. This work continues to underscore the importance of trusted local voices in health messaging.
Prior to joining CURA Strategies, Falen worked supporting hundreds of Child Care Resource and Referral agencies across the country which in turn support children, families and child care providers in receiving and providing high quality child care. Falen's professional experiences also include serving as a Health Educator in Northern Virginia.
Mid- to-Large-Size Agency:
Carolyn Cox, Senior Vice President, Head of Digital Planning + Optimization
Hill + Knowlton Strategies
"Don't wait until you feel ready; seize the opportunity. Embrace learning and growth as the goal."
Carolyn is a strategic thinker and energetic storyteller. She has over ten years of experience guiding innovation and successfully growing marketing giants such as Amazon, Pfizer, Unilever, Walgreens, and Capital One. Carolyn's strong leadership skills and communication expertise are evident in her proven track record of effective marketing campaigns.
As a seasoned omnichannel planner, Carolyn brings a unique blend of audience strategy, creative thinking, and paid media expertise. Carolyn leads the U.S. Digital Planning and Optimization team at Hill + Knowlton Strategies, where she has introduced integrated media solutions and innovative paid digital media capabilities to drive impact. Her diverse skill set allows her to serve as a strategic advisor, helping clients reimagine their communications while developing integrated media campaigns focused on data-driven results.
Passionate about unlocking the potential within people, ideas, and brands, Carolyn actively engages in mentoring programs fostering talent in the public relations field.
Jalisa Washington-Price, Managing Director
Subject Matter + Kivvit
"Curiosity is the best type of professional development. The best communication professionals are constantly exploring new ideas and they stay open to different perspectives."
Jalisa Washington-Price is a public affairs expert and decorated campaign strategist. She was born and raised in rural South Carolina where she gained her passion for organizing and strategic communication by working to turn out voters among students and rural voters. She kicked off her career in politics at Hillary for America as Regional Political Director where she helped develop South Carolina's winning presidential primary strategy, as well as Ohio where she led the team in developing a political strategy for the 2016 presidential election. She later joined the DCCC as the National Director of Office of Diversity and the Chief of Staff where she managed DCCC's minority voter engagement program.
In 2020, Jalisa was the South Carolina State Director and National Deputy Political Director for VP Kamala Harris' Presidential campaign. She continued as a Political Advisor to VP Kamala Harris in the general election when she was picked to be Joe Biden's vice-presidential candidate. Jalisa then turned to the private sector and served as Vice President of Political Advocacy at iHeartMedia.
Currently, Jalisa is Managing Director at Subject Matter + Kivvit. Jalisa leads several of the firm's strategic communications and paid media accounts, advising clients on strategy to optimize communication tactics and how to use creative assets to meet key audiences.
Merritt Group
"There are so many inherent skills and talents we, as individuals, bring to the table, but it is easy to lose sight of these differentiators, especially early on in our careers. I believe the key to success is a combination of working hard, trusting one's instincts and being unabashedly persistent. Honing these qualities in ourselves enables us to overcome adversity and see the value we bring to our work."
Kelly Finneran is the director of Merritt Group's Emerging Technology Group, where she serves as strategic PR lead for key clients, including Samsung B2B Display and Synthesis AI. She also leads business development for the practice group.
Prior to joining the team in July 2022, Kelly worked for Edelman, where she most recently served as a Senior Account Supervisor. In this role, she led the integrated communications programs of technology companies and organizations, including SAP, SAP Concur, Adobe, ServiceNow, Juniper Networks, VMware, NTT, NCTA – The Internet & Television Association and Wiley.
Before her time at Edelman, Kelly worked for Merritt Group's Government Technology practice where she established her domain expertise in media relations, content development and event coordination. She earned her BA in Strategic Communications from Elon University.
Government:
Alaina Gertz, Lead Public Affairs Specialist
Metropolitan Police Department
"Prioritize your relationships! Investing time and effort into nurturing strong connections with people across the industry will reap long-term benefits for your career. Building and maintaining a network of professionals to learn from and collaborate with is key to gaining valuable insights, and to staying up-to-date on the latest industry trends."
Alaina Gertz currently serves as the Lead Public Information Officer in the Office of Communications for the Metropolitan Police Department (Washington, DC). Within this position, Alaina takes proactive measures to publicize the activities and programs of the police department, while also overseeing media coordination for major city events, such as the Something in the Water Festival and Presidential Inaugurations. Alaina's duties encompass the coordination and dissemination of crucial law enforcement information and crisis communications across various social media platforms, press conferences, and media interactions. She is also responsible for generating press releases, delivering breaking news, and supplying updates to local, national, and international media organizations. Alaina's contributions were particularly significant as one of the key managers of developing media messaging and communications surrounding the unprecedented and distressing attack on the US Capitol on January 6, 2021.
Alaina received her Master's degree in Strategic Communication from the Pennsylvania State University and her Bachelor's degree in Public Relations and Strategic Communication from American University. Alaina is an active member of the National Information Officers Association.

Brianna Frias, Communications Director
Assistant Democratic Leader James E. Clyburn
"Don't be afraid to take up space. Your voice, experiences, and insights are valuable and deserve to be heard."
Brianna Frias is the Communications Director for U.S. House of Representatives Assistant Democratic Leader James E. Clyburn (SC-06). Previously, Brianna worked as the Digital Director for then-Majority Whip James E. Clyburn, Digital Director for Congressman Jason Crow (CO-06), and Communications Assistant for U.S. Senator Sheldon Whitehouse (D-RI). She is a member of the Democratic Women's Communicators' Network, the Black Women's Congressional Alliance, and an Advisory Board Member for the Democratic Digital Communications Staff Association.
A former 4-year Division 1 women's basketball player, she graduated Cum Laude from Providence College in 2018 with a Bachelor of Arts in Political Science, minors in Black Studies and Spanish, and a Business Studies Certificate. She is currently a Master's in Public Relations and Corporate Communications candidate at Georgetown University.
Christ-Shamma Matalbert, Press Secretary
US House of Representatives, the Honorable Stacey E. Plaskett
"Be fearless in who you are, master your craft, and be flexible in your dreams because you never know where they may lead you."
Christ-Shamma Matalbert is a proud HBCU graduate from the University of Arkansas at Pine Bluff where she majored in Political Science. After her Congressional Black Caucus Foundation internship summer of 2019, she later obtained a M.S. degree in Justice, Law, Criminology with a focus in Public Policy and Justice from the School of Public Affairs at American University. She found her true passion in communication during her CBC internship under the Leadership of now Mayor Karen Bass as a Communications and Press intern.
Before joining the office of Congresswoman Stacey E. Plaskett as Press Secretary, she worked as a Staff Assistant to Congressman Al Lawson, Admin Assistant / Press Aide to Congressman Al Green and Communications Specialist to the Chief Administrative Officer of the U.S. House of Rep. Christ-Shamma, second oldest of three born to Haitian immigrants continues to embody the essence of what it is the American Dream. She recently successfully obtained her Naturalization Citizenship and looks forward to continuing breaking stereotypical norms in her field and beyond. Christ-Shamma remains committed to advancing social equity and changing the distribution of power in public policy, which she will continue to do in her new position as Communications Director for Rep. Raul Ruiz.
Non-Profit:
Cara Hedgepeth, Senior Community Advisor
AARP
"Lead with empathy and try your best to meet people where they are."
With a background in journalism, Cara is a storyteller first and foremost. As the Senior Social Media Community Advisor at AARP, Cara works as a part of the social media content integration team to empower people as they age, through telling inspiring real people stories, advocacy, events and more. Whether it's a TikTok video dripping in Gen X nostalgia, or a LinkedIn event on fighting ageism, Cara is passionate about inspiring change through creative bite-size content.
Kelsey N. Nelson, Director of Communications
National Foster Youth Institute
"Working in PR be sure to authentically build your voice and your brand while also being flexible and attentive to the needs of your organization and/or clients. To work in communications you must be a life-long learner that's always willing, able and ready to pivot as things constantly change in the field, staying up-to-date with the latest trends and knowing that keeping strong relationships is important to forever build your contact list."
Kelsey Nicole Nelson aka (KNN) is an award-winning media personality, analyst and communications and marketing specialist. The DMV area native has an extensive background in PR, communications, journalism, marketing, and creating/facilitating high-powered community partnerships. Kelsey has worked in the private and public sector running local and national campaigns.
Today, Kelsey serves as the Director of Communications for the National Foster Youth Institute, working out of the organization's DC office where she leads all communications for the youth development nonprofit. Kelsey is also the founder, president and CEO of KryptiaNN LLC media and communications consulting firm.
Kelsey previously worked on the communications team for Learning Heroes, America's Promise Alliance, the National Association of Public Charter Schools, Will to Win Inc., the ESP Education and Leadership Institute – BOSS, and the National Education Association. Kelsey also works as a freelance journalist. For her work, Kelsey has achieved numerous accolades including most recently being named a National AfterSchool Association 2022 Next Generation of Afterschool Leaders honoree and to the Terrapin Club 30 Under 30 Class of 2022 at the University of Maryland. She was named a member of the WKYS 30 under 30 Class.
Kelsey also works as a capstone advisor and an adjunct professor and serves on the board of the Washington Association of Black Journalists and the Montgomery County Sports Hall of Fame. She is also a Regional Advisory Board Member for the Tickets for Kids nonprofit.
Kelsey is a graduate of Georgetown University's School of Continuing Studies and of UMD's Philip H. Merrill College of Journalism.
Diala Ghneim, Communications Manager
UNRWA USA
"Be confident in your abilities and previous experiences that have shaped your current skills set. Be on top of trends and invest in yourself to become better; a crucial point to consider is that Communications individuals are most likely at the intersection of many different departments and projects, they are also the face of the brand- my best advice is to always be diplomatic and level headed when dealing with multiple personas. Be guided by your overall strategy and always hold yourself to a high standard of conduct; regardless of the situation you're dealing with."
Being raised in seven countries for the first 18 years of her life, it is no surprise that Diala found herself drawn to communications, international affairs, and diplomacy. Similar to her upbringing, Diala's career spanned across different regions, particularly the US, Jordan, and Lebanon.
As the Communications Manager at UNRWA USA, Diala leads efforts dedicated to familiarizing Americans with the plight of Palestine refugees. Previously, Diala has held positions in the United Nations Department of Global Communications, non-governmental organizations, and social impact businesses. Through communications and advocacy, her roles focused on bridging the gap between multilateral institutions and civil society organizations operating in crisis-affected countries. She has also interned at the Jordanian Mission to the UN and the Jordanian Ministry of Foreign Affairs.
Diala is the co-founder of Arabs in International Affairs, an Instagram platform meant to connect, support, and highlight the professional journeys of Arabs in international affairs. As a contributing writer for multiple platforms, Diala's writing is focused on the inclusion of minority groups in US politics, women of color in foreign policy, and economic development in the Levant countries. She holds a BA in Political Science and Middle Eastern Studies from Rutgers University.
Trade Association
Kasey Lovett, Senior Director, Communications
American Beverage
"Constantly look for ways to pay your knowledge forward. Whether it's explaining your thought process to a colleague who wants to learn or speaking to interns on the Hill, sharing your experiences and insights allows others to see you as someone who cares about what they do and how they can help others be successful."
Kasey Lovett is the Senior Director of Communications for the American Beverage Association, a trade association representing the non-alcoholic beverage industry. Prior to joining American Beverage, she served as Press Secretary for U.S. Senator Tommy Tuberville where she helped to establish his press operation and media relations strategy during his first years in office. Prior to her work in the U.S. Senate, she held multiple roles in the Executive Branch including as Press Secretary for the U.S. Department of Housing and Urban Development and Broadcast Communications Advisor in the White House Office of Communications. She began her career in the U.S. House of Representatives where she worked in several capacities including as Communications Director for a senior member on the House Appropriations Committee.
Kasey was born in Southern California, growing up in Simi Valley, until her family moved to Frisco, Texas the summer before her freshman year of high school. She attended the University of Arkansas where she majored in Political Science and Communications. In her free time, she enjoys attending various workout classes and loves a good midday weekend nap.
Stacey Miller, Vice President of Communications
Auto Care Association
"BE RESILIENT. The challenges and pressures we are facing today just as human beings are greater than ever before. But developing your resiliency is what can elevate you and keep your career on track. Show determination for solving uncommon problems, be passionate about finding creative solutions and never say 'no.' There is always a way to find success."
With over 15 years of experience in corporate communications, Stacey Miller leads external communications efforts on behalf of Auto Care Association, including PR, media relations, creative, website, print, email, social and multimedia. Miller and her team have tripled consumer awareness and reach of the association (and by proxy, the industry) through strategic communications efforts such as using data-based storytelling to earn media coverage in mainstream media outlets.
Prior to joining Auto Care Association, she was senior director, global corporate communications, at Cision, a PR software company, leading global communications for over $1 billion in acquisitions. During her decade with Cision, she led a team of internal and external communicators while managing the strategy and execution of media, influencer and analyst relations, social media and community development. She also pioneered influencer marketing, data-based PR and social ROI programs through traditional and digital media while earning media coverage in outlets like the Wall Street Journal, New York Times and USA Today.
An internationally sought keynote speaker, her writing has appeared in Forbes, CIO and VentureBeat, as well as several published books. In 2020, Stacey was named as an inaugural "Woman at the Wheel" by AftermarketNews. Stacey has also been nominated for the Women in Auto Care (the industry's leading women's group) Woman of Excellence Award three years in a row. In 2023, she was nominated for PR News' Top Women in PR Awards.
Stacey attended the University of Maryland, majoring in communications.
Elleni Almandrez, Director, Advocacy and Communications
Children's Hospital Association
"Never lose focus of your goals and always keep learning. In this industry, it's important to stick to your ethics and surround yourself with a tribe of amazing women."
Elleni Almandrez is the Director of Advocacy and Communications for the Children's Hospital Association (CHA). At CHA Elleni leads the external relations department where she manages a team of advocacy, communications and social media strategists. She brings a track record of media relations, public policy and crisis communications, grassroots advocacy and strategic communications planning.
Elleni joined CHA after previously working as an Assistant Director of Communications for a materials and supply chain trade association where she led advocacy campaigns on recycling and sustainability and worked with members such as the Coca-Cola Company, John Deere and OutterBox.
In 2016, Elleni joined Fenton, a social change agency, where she led day-to-day communications for maternal and child health care organizations, nonprofits in philanthropy, environmental/sustainability NGOs, human rights advocacy groups and global development foundations. Elleni was also a Public Affairs Consultant with Weiss Public Affairs and a Finance PAC Consultant for Direct Connect Consulting Group, where she worked on political fundraising campaigns for Representatives Sheila Jackson Lee, Barbara Lee, Collin Peterson and Melvin Watt.
A Maryland native, Elleni earned her Masters in Public Relations and Corporate Communications from Georgetown University and a Bachelors in Journalism from Howard University.
Corporate
Megan Eichenberg, Director of Corporate Communications and Publicity
Washington Capitals
"There is a lot of value in what you learn in the classroom, but nothing compares to what you learn on the job itself, and it's important to seek out internship positions that align with your interests in order to develop upon your skillset. At the same time, learning never stops – whether it comes from new experiences or lessons shared by others in your PR network. You will encounter new situations throughout your career, and with each experience your confidence to navigate through the unknown will grow."
As director of communications & publicity for the National Hockey League's Washington Capitals, Megan Eichenberg oversees corporate communications surrounding the team's initiatives across marketing, business, charitable and community endeavors, and youth hockey development. As the Capitals primary media contact for "off-ice" programming, Megan works with Capitals players and staff to spotlight the organization through local and national media coverage. Highlights include working on PR campaigns surrounding the Capitals becoming the first NHL team to announce a jersey patch partner, a Stanley Cup community tour, a team service-dog-in-training and the launch of an athlete's cereal. In addition to working with internal departments to publicize activations through owned and earned media, Eichenberg also oversees the production of the team's annual lifestyle magazine W, a publication she conceptualized for Capitals fans that is geared toward profiling Capitals players away from the ice.
Megan has served in communications roles with the Capitals since 2012. Prior to her employment with the Capitals, she served in communications internship roles with Monumental Sports & Entertainment and the University of Mary Washington (UMW) as well as in a community relations role with USO-Metro. Eichenberg received a bachelor's degree in journalism from UMW and a master's degree in sports industry management with a concentration in strategic marketing, communications and new media from Georgetown University.
Ligia McEvoy, Director, Global Public Affairs
AT&T
"Advocate for yourself, we are excellent communicators for issues, campaigns, products, organizations, etc. – communicate your goals out loud."
Ligia McEvoy is a highly dedicated External and Legislative Affairs (E&LA) professional who creates efficient, strategic, and impactful opportunities to elevate the company reputation with proven excellence in stakeholder engagement, digital communication, influence, campaigns, and cross-department collaboration.
Ligia has over 10 years of corporate experience accumulated through her various roles at AT&T and DIRECTV within the legal, corporate social responsibility, and global public affairs departments. Previously, Ligia oversaw the development and execution of DIRECTV's film scholarship program, which receives an average of 400 short films from over 200 universities in Latin America. She also led strategic alliances with external stakeholders such as ministries of education, embassies, and media partners for DIRECTV's education program Escuela+, which serves over two million students in over 9,500 schools.
Ligia is EVP of Communications for HACEMOS, AT&T's employee group, and serves on the National Board. She also serves on the Board of Directors for Aspire! Afterschool Learning, a local organization based in Arlington, VA that helps young students fulfill their potential through after school and summer learning programs. Ligia lives in the D.C. Metro area with her family.
Jordun Lawrence, Manager, Impact Communications
PayPal
"Never stop learning and taking up space."
Jordun Lawrence is a dynamic communications leader with a track record of developing communications strategies that drive enduring impact. As Impact Communications and Strategic Partnerships Manager at PayPal, Jordun is a key convener and collaborator, spearheading communications efforts that humanize the PayPal brand and highlight PayPal's mission to improve financial health and expand economic opportunity.
Jordun brings over 10 years of experience to her role, having worked across the public, private, and non-profit sectors. She previously served as Communications and Strategic Engagement Director for the Public Religion Research Institute – an organization focused on conducting independent research at the intersection of religion, culture, and public policy. She has also served as Deputy Press Secretary for the Democratic Senatorial Campaign Committee, as Senior Manager of Communications for the National Urban League Washington Bureau, as Deputy Press Secretary for Hillary for America, and on Capitol Hill.
A proud native of North Carolina, Jordun received her bachelor's degree in political science from the University of North Carolina at Greensboro and a master's degree in strategic public relations from The George Washington University's Graduate School of Political Management.