Falen Petros is an Account Supervisor, Public Health at CURA Strategies and WWPR 2023 Emerging Leader Award Winner in the Boutique Agency category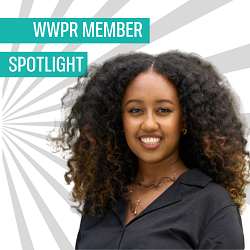 Tell me about your background and what drew you to your new position.
Before joining CURA, I served as a Member Success Specialist at Child Care Aware of America (CCAoA), where I worked with public health thought leaders from across the country to address childcare system needs through an equity and public health lens. During my time at CCAoA, I was also able to receive my master's degree in public health education and promotion. I was drawn to my current position because of its focus on public health communications and promotions.
What is the most exciting or rewarding project you've done recently or in your overall career?
I would have to say my most exciting project was the Rockford Ready Health Literacy Poetry Series in which I led, developed and executed for my client. To reach one of the hardest-to-reach populations in Rockford—the younger Latinx population—I contacted the City of Rockford's 2022 Youth Poet to seek her interest in partnering with Rockford Ready to educate the community on health literacy by highlighting her personal experiences navigating the health care system as a daughter of Spanish-speaking immigrants. She agreed and worked with me to develop a 5-part video poetry series. The series covered her all-too-familiar experience as a minor translating for her parents in health care settings, the taboo of discussing family medical history, and the use of emergency care for preventable health episodes. Since its launch in Nov. 2022, the series has attracted over 950 YouTube views and 8,500 Facebook views and was featured in the Chicago Tribune.
As an Emerging Leader Award Winner and member of WWPR, what have you gained from your experience?
As a 2023 Emerging Leader, I was able to connect with my peers and learn more about what PR looks like across different industries and company sizes. This honor was also an opportunity to reflect on my definition of leadership and improve my daily practice of it. I'll also note that I left inspired by our keynote speaker, Devi Thomas.
What PR trends do you see happening in 2023 and what kind of influence has it had or will have on professionals in the industry?
I think the biggest trend I've seen in public health communications is the weariness audiences have experienced hearing from the CDC on COVID-related updates. We've found success in focusing on sharing information and updates through trusted community voices.
Is there any particular book, podcast or influencer you would recommend? How has it impacted your life? While this book may be familiar to some, I would say Atomic Habits by James Clear. My performance as a public health and PR professional is simply a compilation of decision-making moments. Zooming out a bit, I feel that my sense of fulfillment and contentment relies on my everyday decisions. Strong habits fuel positive outcomes.