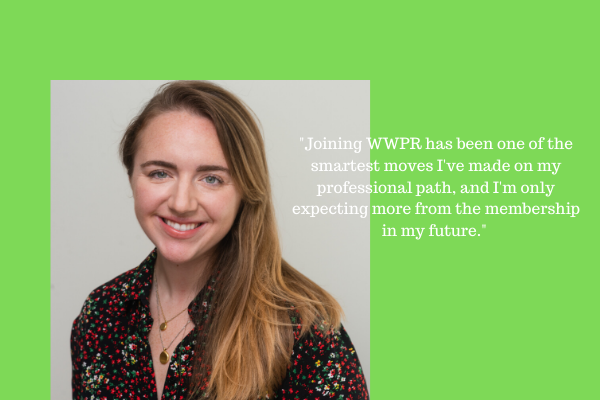 Q: Tell me a little bit about your background and what kind of work you are doing now:
A: I'm an Associate Communications Manager at the Partnership for Public Service — a nonpartisan, nonprofit organization committed to making government more effective. My background matches that mission. I've largely been focused on politics and public advocacy work, starting back as a junior press staffer in the 2016 presidential election. My passion for good government has brought me all the way from a turbulent campaign environment, to a thoughtfully-run think tank, and now to a leading non-profit in DC. In my current role, I am most focused on social media strategy, video production and event planning.  
Q: What do you enjoy most about your job? Can you share a successful accomplishment?   
A: Our organization prides itself on recognition, and it shows in our Service to America Medals (Sammies) program. We honor the outstanding work of public servants who don't receive the praise and appreciation that they richly deserve. We earn them media spotlights and opportunities to share their stories widely. Every year, the "Oscars of Government Service" hosts a gala to celebrate these public service achievements. One of the proudest moments of my career was when I saw #Sammies trending nationwide. To see our hard work pay off, and to see the achievements of our nation's brightest stars in the spotlight, was a highlight of my career.
Q: Why did you join WWPR? How has the experience been and what advice would you give to someone wanting to join WWPR?
A: Through my job at the Partnership for Public Service, I coordinate a quarterly convening with the Federal Communicators Network — a community of public affairs specialists across government. As I grew in that role, I realized the power of community, connectivity and sharing best practices. I knew I needed to find a group that could match my professional interests and career goals — and I've found that with WWPR. Joining WWPR has been one of the smartest moves I've made on my professional path, and I'm only expecting more from the membership in my future.
Q: How do you keep up with the latest trends in PR? 
A: I think the best way to keep up with the latest PR trends is to listen and learn from your peers. In organizations like WWPR, we are uniquely positioned to build and grow from each other's expertise. Start there, then find your own creative path and let training, blogs, and podcasts guide you along the way. Sign up for every newsletter and daily digest you can find — it'll be worth it even if you only read them every so often.  
Q: What trends are you seeing more of in public relations in the past 5 years? Are you implementing them in your career?  
A: Visual media has been on the rise, and it isn't going anywhere. In my role at the Partnership for Public Service, we've taken both in-house and contracted video work to new levels, and we've seen tremendous returns. Try and get your principals on camera as much as possible to put a face to your brand's spokespeople. Video storytelling will continue to be a leading priority in our world.   
Q: Outside of WWPR, are you involved in other organizations or activities outside the office? If so, share and tell us why.    
A: Book clubs! I love reading both non-fiction and fiction so that I can absorb new stories and diverse perspectives. I also started my own non-profit, The Recovery Project (edrecoveryproject.org // @ed_recoveryproject), a letter-writing initiative to support people battling eating disorders. Each month, our team of writers sends letters to hundreds of eating disorder survivors to support and encourage their recovery journeys.
Q: What are some of your favorite things to do in the DMV area? 
A: DC has a vibrant fitness scene, and I've really enjoyed exploring all it has to offer. I've been a lifelong tennis player, and I was worried that the city wouldn't have much to offer, but I was totally wrong! I play in a local USTA league and I'm loving it. If anyone wants to play, you've found your next hitting partner.