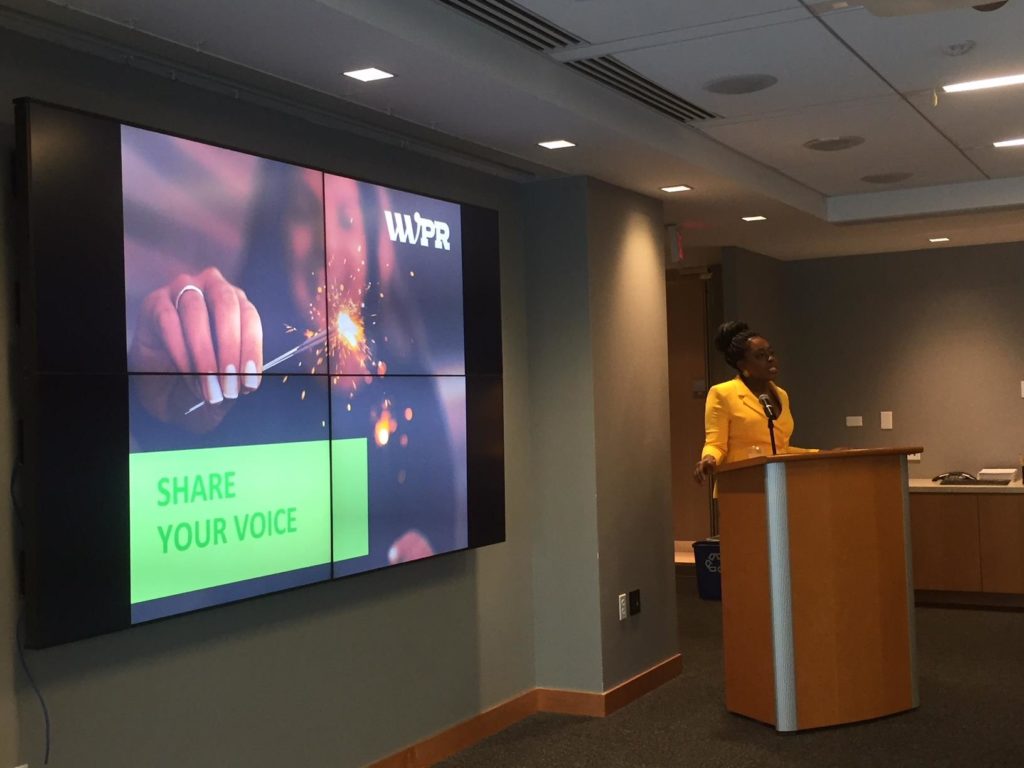 In a room full of early risers, eager to begin their day with a cup of coffee and a boost of motivation, Alexia Baillow, a brand marketing superstar, took the stage and spoke powerfully about her experience developing her own voice and personal brand.
Rise & Shine, a new quarterly series, gathers WWPR members before the workday to showcase a shining leader in the field and share inspiring ideas and helpful practices to help members be the best versions of themselves.
Alexia, a brand marketing manager at MGM National Harbor, spoke to the group about how clearly defining her values has helped build and strengthen her brand and drive her successful career. Below are a few of the key takeaways:
Finding congruence in your everyday life will help you build your personal brand.

In order to find happiness and purpose in her career, Alexia made a point to tie her personal values to her professional skillset. She is an advocate for the minority community, helping to break down barriers and using that momentum to build bridges between companies, communities, and people. Alexia encouraged finding harmony between one's career and values and using that passion to support your personal brand.
The strength of your personal brand is not based on social followers.

Alexia emphasized that you should think of your personal brand as how you want people to describe you when you're not in the room. Lean on your social platforms to share your voice and values and tell your story to professional and personal connections. Someone with a successful personal brand will be more concerned with the quality of their followers and engagements, rather than the quantity.  
Deeply consider your values and goals.

People who are hoping to strengthen their personal brand should first outline their purpose behind these endeavors. Alexia emphasized that taking time for self-evaluation is the first step in being able to tell your story. This self-reflection can help you recognize things that may be holding you back from the values you are hoping to instill. 
By defining your values, finding congruence between those values and your career, and focusing on your authentic connections and quality interactions, you will be well on your way to achieving a strong personal brand.
Check out the video below to hear Alexia Baillow's three tips to building a personal brand: