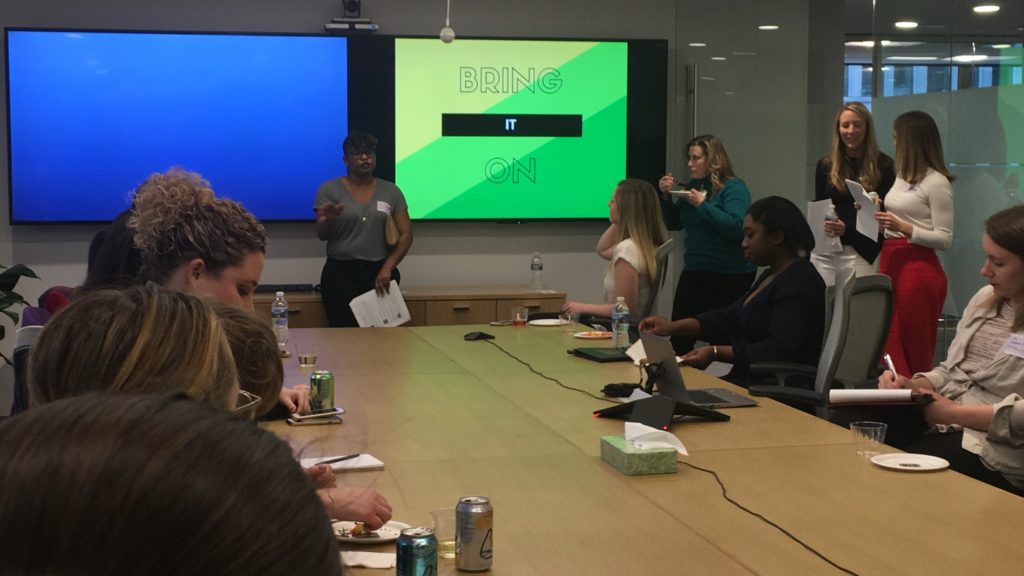 Have you ever tried speed dating—that famed, yet illusive cultural gem that gives willing romantics a shot at making a real connection? I haven't tried it, but I like the idea. Having a chance to, within a finite period of time, meet others with similar interests and goals seems to me to be a worthwhile endeavor. That it's exciting and even feels a little risky is just icing on the cake.
Like I said, I haven't tried speed dating, but, thanks to WWPR and a lot of amazing women, I have tried speed mentoring. Earlier this week, WWPR held an event that captured the spirit of this dating practice, with the reimagined aim of helping women communicators network and learn from some of the best.
The concept was simple—after opening remarks by WWPR's President Dani Veira (did you know speed mentoring was one of her favorite activities?)—attendees were split into three groups. Mentors cycled through three rooms, so that each group got a chance to talk to ask questions of them. We each wore a nametag that identified not only who we were, but who our dream mentor was. Mine is C.J. Craig, in case you are wondering. Other attendee dream mentors included Gina Rodriguez, Jeannette Rankin and Michelle Obama.
And speaking of…holy mega-watt mentors, batman! WWPR recruited eight of the most impressive, storied, force-of-communications-nature ladies to share their experience and more about what led them to their current role. They are communications leaders from many backgrounds, including agency, non-profit, career development, policy, and more. If you're interested, you can see a full list here.
So—amidst wine, cheese and cookies—we lucky attendees asked questions. We listened to and learned from these women who, at various stages in their careers, have accomplished so very much. In case you weren't able to attend (☹), or didn't hear about it in time (OH NO—follow us on Twitter or Facebook so you don't miss a beat), I've gone ahead and recorded a handful of key takeaways.
THEME 1: AUTHENTICITY & ASSERTIVENESS—KNOW YOURSELF & KNOW YOUR VALUE
Many of the mentors shared insights and personal stories about the importance of authenticity and belief in oneself. There is a cultural inclination among women to shy away from outward displays of control or expressions of confidence. The mentors at WWPR's speed mentoring event emphasized that that inclination must be overcome in order to advance as professionals.
Part of this conversation had to do with interviewing and negotiating offers. Perhaps two of the most stressful and mysterious parts of professional development, the mentors had a lot to say. Their input boiled down to this: know yourself, know your value and don't accept less (money, title, opportunity) than you are worth.
THEME 2: MOST JOBS DON'T LAST FOREVER, YOUR CAREER IS WHAT YOU BUILD
During the session, I noticed a definite theme around distinguishing "job" from "career". The audience for this event was incredibly diverse, with women just starting in their careers, while others were looking to transition to a new role 20 years into one job. As a result, there were a number of discussions about how to build a career in periods of transition. Without exception, all the mentors highlighted their own career paths. The general sentiment among these mentors was that, more often than not, paths twist and turn, and that the best career is made possible by learning as much as you can in every new scenario in which you find yourself.
I found that I learned a great deal, not only from the mentors, but from my fellow attendees. Some were considering grad school, but wanted to know if the mentors—who had varied academic backgrounds—thought it was worthwhile (the verdict: it's different for everyone, depending on their goals). Others were kicking off their career as a contractor or consultant and wanted advice on how to grow a client base (my favorite response: do pro-bono work, but only once per prospective client).  
These particular interactions highlighted for me not only the rich backgrounds of our mentors, but also the diversity of WWPR's members and guests.
THEME 3: MENTORSHIP IS THE PATH FORWARD
The irony was not lost on me that at speed mentoring, perhaps the most prevalent theme was that for women communicators, mentorship is the best path forward. From reaching leadership parity, to achieving professional goals, to achieving work-life balance, mentors play a huge role.
Many of the mentors present at this event fondly told stories of the men and women who had shaped their careers and their approach to their professions. They emphasized the need for female communicators—particularly those in their early careers—to establish a small circle of mentors (what one panelist referred to as a "personal board of directors"). These individuals are vital, said the mentors, to helping advocate for advancement and as sounding boards for tough decisions.
I've never tried speed dating, but I can tell you I'll be back for more speed mentoring. There was something universal and unifying about the experience. I was surrounded by my peers, who are facing the same challenges I am facing, and I was being given advice by women who have overcome those challenges in their careers. I walked away with new perspectives, new contacts and a spring in my step.
Thanks to our amazing mentors and participants! Check out upcoming WWPR events here.