Tesia Williams, Director of Communications at the Department of
Health and Human Services Office of Inspector General (HHS OIG)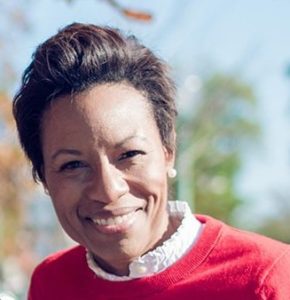 Tesia received a BA in mass communications from Hampton University in Virginia. As an undergraduate student, she didn't immediately know her path or major, but ultimately settled on communications because she enjoyed writing and storytelling. While interning at a non-profit and large PR firm and her positive experiences, she realized public relations was the career field for her.  After graduating, Tesia worked in communications for the Department of the Army and started writing news articles for the post newspaper and planning community relations events. Later, she went on to work at the Pentagon and was in the building on 9/11. The very next day, she was back at work responding to media inquiries from outlets around the world. Textbooks didn't prepare her for how to deal with that level of crisis and response and there wasn't a lot of time to think or feel. She just kept moving because the mission was so much bigger than them. 
Tesia's desire to do something greater than herself led to multiple positions throughout the Army– telling the story of warfighters and recounting the contributions of the nation's top engineers at the US Army Corps of Engineers. She has since transitioned from working with warfighters to health care fraud fighters in her current role as Director of Communications at the Department of Health and Human Services Office of Inspector General (HHS OIG). She loves what she does because her work touches the lives of nearly every American. Working with smart, outgoing professionals (lawyers, law enforcement officers, auditors, evaluators and executives) brings her joy. These people are dedicated to the mission of the organization, specifically protecting the health and welfare of HHS program beneficiaries. It's hard not to get behind that mission and the best part is, she gets to do it as a team every day. Identifying new and innovative ways to explain their work and why it matters to the public can be challenging. Reports are often complex and highly technical, but impactful. Creating an interesting product when you have simplified complex information, without changing the meaning can be tough.
Joining WWPR
Tesia joined WWPR to expand her network and be of assistance to women who are just starting out in public relations. She has had a number of mentors, advisors, and cheerleaders throughout her career and believes that now is the time to pay it forward to help others in PR.
Keeping up on PR trends
Tesia reads articles published by PRSA and HBR. However, she obtains most information by reading books on human and social behavior, such as Freakonomics and The Tipping Point. She believes that when you understand the why behind one's actions or the reason some ideas spread and others flop, you can better shape and target your message/communications products. Also, just visiting online platforms to see what's trending (e.g. videos, graphics, etc.), helps and she steals ideas shamelessly.
In the government sector, Tesia sees more risk-taking. With so many things vying for their attention, it's tough to join or be a part of the conversation when products are five or ten years behind the curve. Therefore, she sees a more modern approach to graphics, web design and storytelling and of course they're not going overboard; her office is still good stewards of the taxpayer's money. 
Serving the Community
Tesia is on the board of Shepherds Table, which provides meals, clothes and other basic services to the homeless and people in need. This organization is vital to the community and relies on the time, talent and financial support of so many donors and volunteers. She is fortunate to be in a position to assist clients and ensure programs like these endure.
Outside of the office
Tesia is a mother of three girls and a dog, who also happens to be a girl, so her husband is often the odd man out. They love to unwind after a hectic work and school week and have a movie night, dance-offs, and binge watching Nailed It. Sundae Sunday's has become a tradition in their household and they look forward to making a mess of toppings on their favorite ice cream.
 Words to live by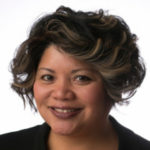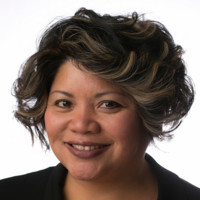 Tesia was told early on her career to be flexible and have a thick skin. She has never forgotten that bit of advice and it has served her well.