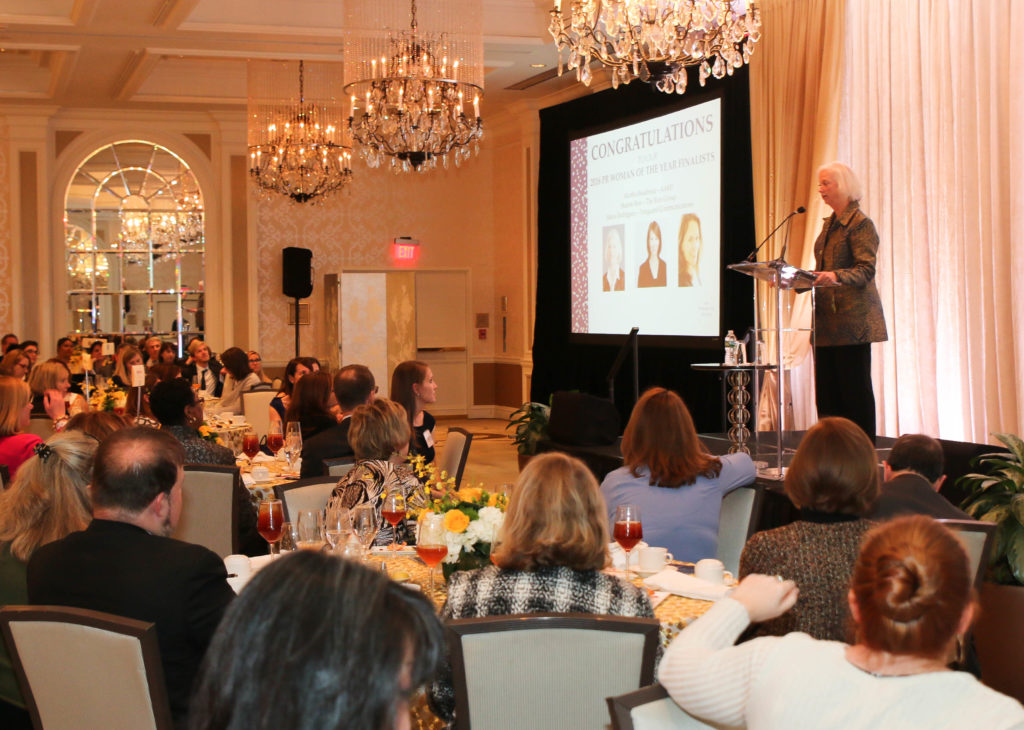 By Lindsay Young, PR Woman of the Year Committee Member
Every year, Washington Women in PR honors one exceptional woman who has made contributions to her field and currently resides in the Washington, D.C. metro area with a special award – the Woman of the Year. Established in 1990, Woman of the Year is one of WWPR's signature events, and a must-attend networking luncheon and ceremony for Washington's PR community honoring the achievements of those who have reached a pinnacle in the profession.
Here are five reasons why you (Yes, YOU!) should attend:
1. It's a Chance to Celebrate Women
Throughout the years, the WOY award has honored individuals who have displayed true leadership throughout her career – both in public relations and the community – and shown their devotion to the advancement of fellow women. And who doesn't love celebrating successful women?! Our keynote speaker, Kirsten Suto Seckler, said it best:
"I think the Woman of the Year award is an interesting and important award. When you can highlight successful women in this industry and you can call out their achievements it is very important. This award is important, especially now more than ever." 
2. It's a Great Networking Event
The Woman of the Year event is the premier event for women in the public relations industry in the Washington, D.C. metro region. Just picture it: You walk into the Fairmont, and it is filled with successful women who serve in executive and senior-level roles…. AND YOU! Washington D.C. has been named one of the top cities for public relations professionals and you have the chance to meet some of them. You won't want to miss this opportunity to network with women of this caliber in your field. If you're nervous about networking, check out some of these tips. 
3. You Get to Support the Nominees and their Life's Work
The Woman of the Year event recognizes three women who have dedicated their careers to being public relations leaders. Previous winners have held top positions in government, agencies and Fortune 500 companies; led nonprofit boards; been active in mentoring other women; and given their whole hearts to a variety of causes. Winning this award is a major success for the nominees and you are supporting them by attending the event! Previous recipient, Christina Nicols, expressed her gratitude in receiving the award: "After 25 years in communications and market research, it was a thrill to be recognized by my peers for contributions to the field. Being named WWPR's woman of the year 2015 was especially gratifying because I have built most of my career in Washington, among so many strong, talented women and men in the industry."   
4. You Get to Attend a Cool Luncheon During the Work Day
This luncheon is decked out in encore and its attendees. It takes place at the beautiful Fairmont Hotel located in west-end D.C. You'll have the opportunity to network with others in your field, learn more about what they are doing, as well as listen to inspirational stories and advice from leaders in our field.  Last year's WWPR president said she leaves the Woman of the Year luncheon feeling "invigorated and inspired" and "hearing the inspirational words I needed to hear." And who doesn't love a Friday lunch away from work?
5. Female Camaraderie
We love women supporting women. Women can be powerful allies for each other in their careers. The PR Woman of the Year Award acknowledges this by creating an annual experience fostering camaraderie among women in public relations. Now more than ever, it is important to mentor, support and communicate with other women in our industry. Here's what 2016 WOY recipient, Martha Boudreau, said about the Woman of the Year event: "It is an honor to be named the Washington PR Woman of the Year and to be surrounded by so many accomplished women who share my passion for the industry. Every year this event serves as a major platform for recognizing women at all levels who are using the power of communications to inform, educate and create change. I applaud WWPR for their history of mentoring the next generation of leaders and for highlighting the work of industry leadership."
The Washington Woman of the Year Event is for everyone. Whether you're 20 years into your career, or just starting out, this is the perfect event to celebrate women in our field. Don't miss the opportunity to buy your tickets! The event will be held on Friday, November 9 at 11:30 a.m. at the Fairmont Hotel. Buy yours today!