This month's WWPR Member Spotlight features Christin Lewis, senior manager of account and brand strategy at the American Diabetes Association and co-founder of The Luv u Project.
Her Day Job
Currently, Christin spends her days at the American Diabetes Association where her focus is on the overall marketing and communications strategy for several the association's national initiatives. The vast scope of the projects allows her to continue to expand her expertise and learn new skill-sets she hasn't been able to dive into before.
Before entering the nonprofit realm, Christin had the opportunity to work in several other different industries, including government contracting, intellectual property, and financial services. She has continued to learn and find mentors throughout her career and learn a few lessons along the way, including:
Don't get too comfortable – it's important to continue learning
Embrace failure by taking risks
The best lessons can come from the unexpected
Founding A Nonprofit Organization
Christin, along with her father and husband, founded The Luv u Project in 2014 in her mother's memory following her passing. She described the organization's mission as turning a tragedy into a quantifiable agenda and responsible actions that advance issues surrounding mental health, and in a short time has supported projects ranging from a national symposium and advisory board on workplace mental health and prevention with Johns Hopkins to an award with the National Press Foundation for excellence in mental health reporting.
While Christin describes founding and managing her organization as a lot of time and hard work, she also has found it to be tremendously rewarding. In her current role as director for the all-volunteer organization, she finds herself operating in multiple functions including marketing, communications, strategy and development.
Work on WWPR's Pro Bono Committee
Christin was introduced to WWPR by her friend and colleague, Danielle Veira, and immediately jumped at the opportunity to lend her expertise to a good cause on the Pro Bono Committee. As a member of the committee, she has enjoyed meeting other professionals in the area and learning from their strengths, as well as practice other skills she may not get to focus on at her day job.
Her Secret to Being a Well-Rounded Person
Outside of the office and her pro bono work, Christin describes being active as key to her success – she runs half marathons and has introduced distance biking into her routine as well. She also attributes spending time with her husband, friends and dog as helping her stay balanced.
As a native of the Washington region, Christin emphasized that it's hard to beat a city like D.C. She likes to spend her time in the summers taking in games at Nationals stadium and experiencing the diverse cuisine in the city.
In The Morning…
How Christin spends her mornings:
Seeing her husband off (he leaves before she does)
Walking, feeding and playing with her dog
Getting an early workout in, if she's lucky
Taking a quick shower, then heading off to work!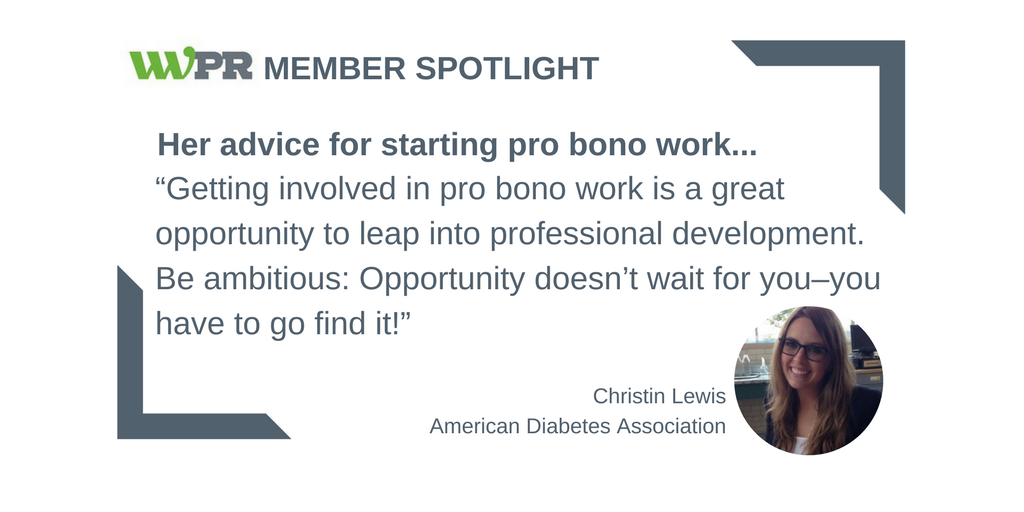 Article by Melinda Tolliver, a digital communications specialist who has worked in a variety of settings throughout her career. She loves the thrill of stringing together powerful, eloquent messages in under 140 characters, and creating thoughtful visuals to go with it. Her current position is with the Association of American Law Schools as a digitally-focused communications coordinator. Follow her tweets and 'grams at @mmptolliver.